Ghosts, scarecrows, and skeletons—oh my! With Halloween right around the corner, it's time to pick out decorations to make your yard the spookiest on the block. From pumpkin patches to mini-cemeteries and haunted houses, there are dozens of Halloween yard ideas to get others into (or possessed by) the Halloween spirit. 
Whether you're on a budget or excited to let your imagination run wild, Halloween is the perfect holiday for getting crafty. It's also the perfect chance to put your decorative abilities on display and give trick-or-treaters a scary treat. So if you want to take your yard to the next frightening level, take a look at some of our favorite Halloween yard ideas!
Creepy Crawlies
Adding some creepy crawlies to your Halloween display is a fantastic Halloween yard idea. Who doesn't run for the hills when they see a slimy insect or hairy monster?
1. Yard of Spiders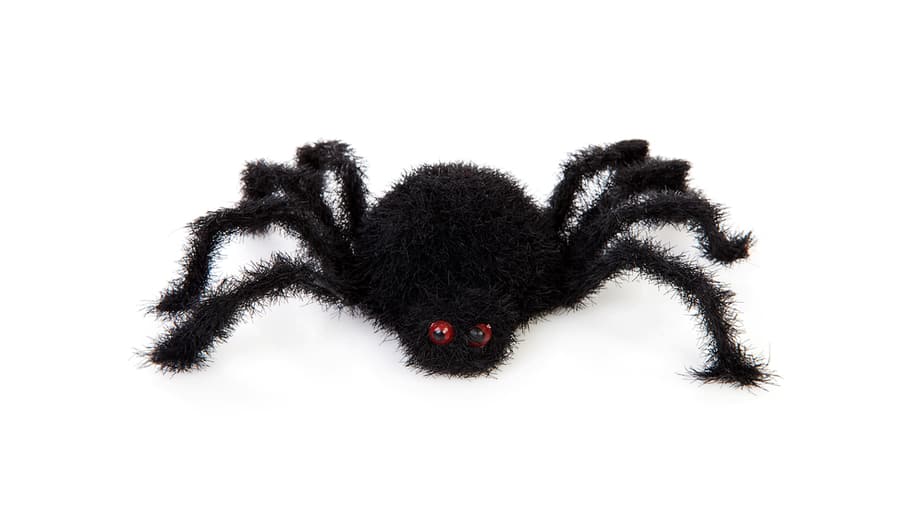 Spiders are creepy. Period. And having a bunch of plastic, eight-legged insects in your yard is a surefire way to scare trick-or-treaters. If you want to amp up the Halloween fun, you can buy inflatable or plastic spiders and scatter them in your bushes and flowerbeds or place them on your deck. (Make sure not to mistake them for actual spiders, or things might get too spooky).
Since you're taking the step to decorate with these creepy crawlers, you should also get…
2. Spiderwebs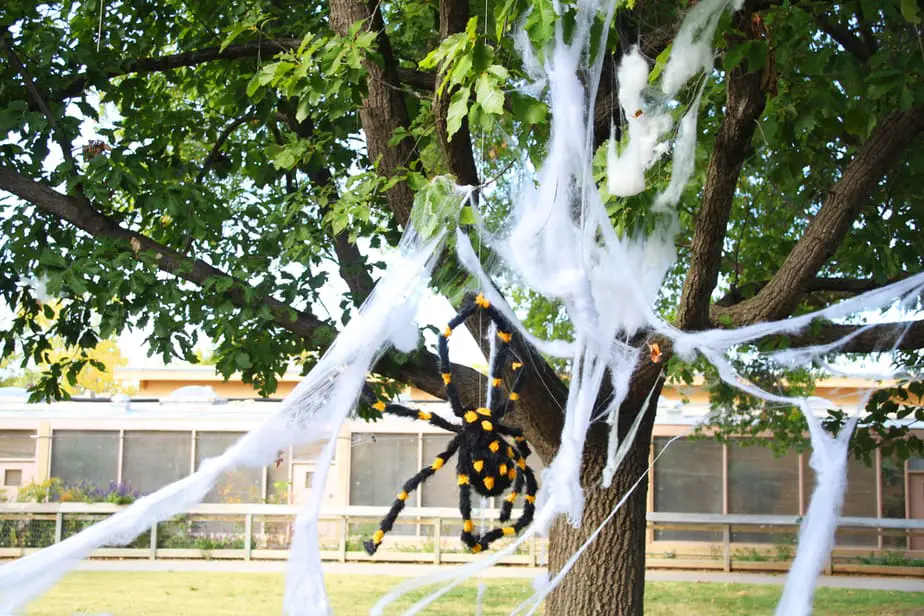 A spider without its web is… well, it's still a spider, but it's not quite as scary! To really leave an impression on your Halloween guests, you can take fake webbing and drape it around your bushes, making it look like your spiders are alive and busy.
If you want to make this webbing yourself, cut several strands of yarn, shape them into a web, and use a brush to cover the whole web in wet flour. You can also buy webbing online or at your local Halloween store. Some of it even glows.
Halloween Spider Web Stretchy Glowing for Halloween Outdoor Indoor Decorations with 65 Fake Spiders of 3 Sizes
DURABLE MATERIAL & EASY TO USE. The rope web is easy to install and won't knot easily. It can also bear the weight of toy spiders with its strong load bearing.
GREAT VALUE SET. Come with 100g life-like spider web, 5pcs x 2.7in / 7cm Spiders, 20pcs x 1.7in / 4.5cm Spiders and 40pcs x 1.7in / 4.5cm Night Light Spiders. Spider web and fake spiders in one set to fit all you need one time!
PERFECT FOR ANY OCCASIONS. More than any Halloween decoration outdoor or indoor, also great as party favors, trick-or-treating and Halloween gifts and brighten up haunted house, costume parties, bars, etc.
MORE SCARY WITH THE LUMINOUS SET. The set includes 100g spider webbing which could glow in the dark after absorbing the light for few minutes, also fake spiders that can help you create horrifying atmosphere.
NO RISK PURCHASE. Full one-month money-back guarantee. If you're unsatisfied with this item for any reason, just feel free contact us.
Last update on 2020-04-05 / Affiliate links / Images from Amazon Product Advertising API
GeeVen Halloween Spider Webs 50 Luminous Spiders Glow in the Dark Stretch Spider Webs 60 Plastic Spiders for Halloween Decorations
WORTH HAVING HALLOWEEN DECORATION--We have 1 spider web, 1 stretch spider web, 50 luminous spiders and 60 plastic spiders, a total of 112pcs, to create a real Halloween atmosphere for your home.
9 CIRCLES OF SPIDER WEBS--The spider web is a plush material, hand-knotted, and has a diameter of 350 cm. Can be used to decorate haunted houses, bars, and party decorations for Halloween.
STRETCH SPIDER WEBS--The stretchable spider cotton is made of polyester and weighs 60 grams. Easy to stretch and attach on objects anywhere. Ultra-stretchable webs are enough to cover 100 to 130 square foot. It is perfect for your house indoor or outdoor, windows, walls, and furniture etc.
LUMINOUS SPIDERS&BLACK SPIDERS--The combination of black spiders and spider webs can further reflect the realism of the spider itself. The tiny spiders need to be put under the light for a while to absorb the light before they can glow in the dark.
PERFECT HALLOWEEN PARTY DECORATION--Great value set. All you will need for a Halloween spider decoration set. The best Halloween indoor and outdoor decoration brings a strong festive atmosphere. The Halloween party spider webs help you make horrifying atmosphere.
Last update on 2020-04-05 / Affiliate links / Images from Amazon Product Advertising API
---
3. Bats and Spooktacular Trees

Your trees shouldn't be left out of the Halloween fun, and there are several ways to get them looking festive. An easy trick is to cut out bats from black paper. You can then punch holes in a bat's legs, loop string through them, and tie the bat upside down from a tree limb; this will make it seem like bats are hanging from your branches, silently watching your visitors.
You can also buy creepy decorations that will make your tree look like it's come to life. Give it two eyes, a mouth, some arms, and voila! You have a human-like, terrifying tree.
The Spirit of Nottingham Woods: Greenman Tree Sculpture
Add life to your garden - If your yard ornaments include Bigfoot, a gargoyle, a few funny gnomes and a fairy or two, then our spirit of Nottingham woods tree hugger will fit right in!
Outdoor tree decorations - surprise People in the neighborhood young and old by hanging up our outdoor tree faces who's eyes look so real you'll think the woods have come to life on Halloween night!
High-quality - hand-cast using pliable composite polyresin which molds around your forest tree or garden fence, our green Man head statue is topped with a UV resistant finish. Just nail or screw through the mounting holes to attach
Design Toscano garden green Man decorations - exclusive to the Design Toscano brand, These wood Spirit faces turn wall plaque sculptures make whimsical gifts for home, outdoor patio trees or garden decoration
Our mystical tree character yard art measures 8.5"Wx3"dx15.5"H. 1 lb., making this Green Man nature face sculpture an ideal whimsical, Pagan decorative statue
Last update on 2020-04-05 / Affiliate links / Images from Amazon Product Advertising API
Last update on 2020-04-05 / Affiliate links / Images from Amazon Product Advertising API
---
4. Scary Crows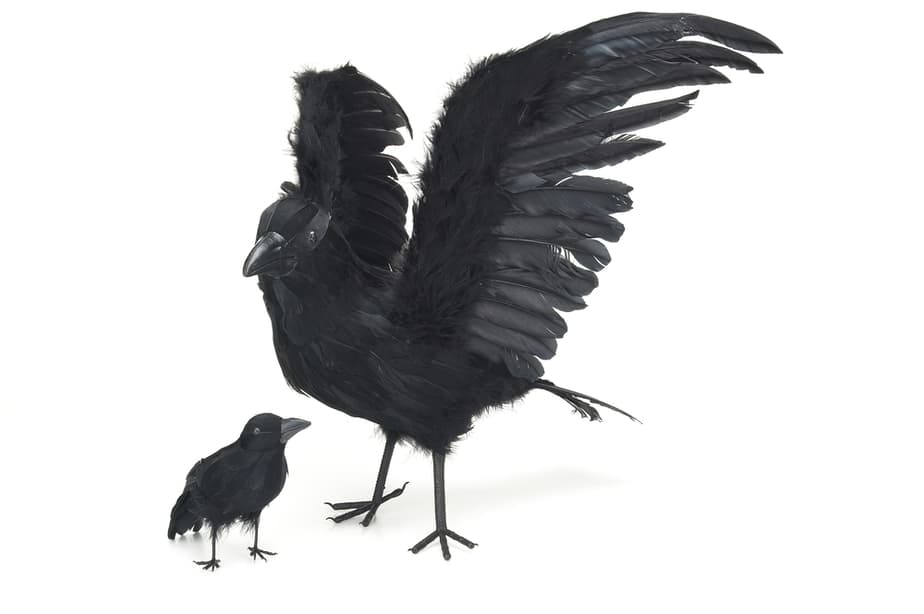 As scary as spiders and bats are, sometimes, all your yard needs for that frightening Halloween touch is a flock of creepy birds. In fact, birds make a great addition to your yard, no matter what time of year.
Like with your bats, you can attach these birds to your tree and make it look like they're watching your visitors. You can also place them around your deck or roof, ensuring trick-or-treaters will spot one before making away with their candy.
You can buy these birds online or create your own with paper cutouts to put in your windows. If you're going to add crows to your yard, don't forget to include…
5. Haunted Scarecrows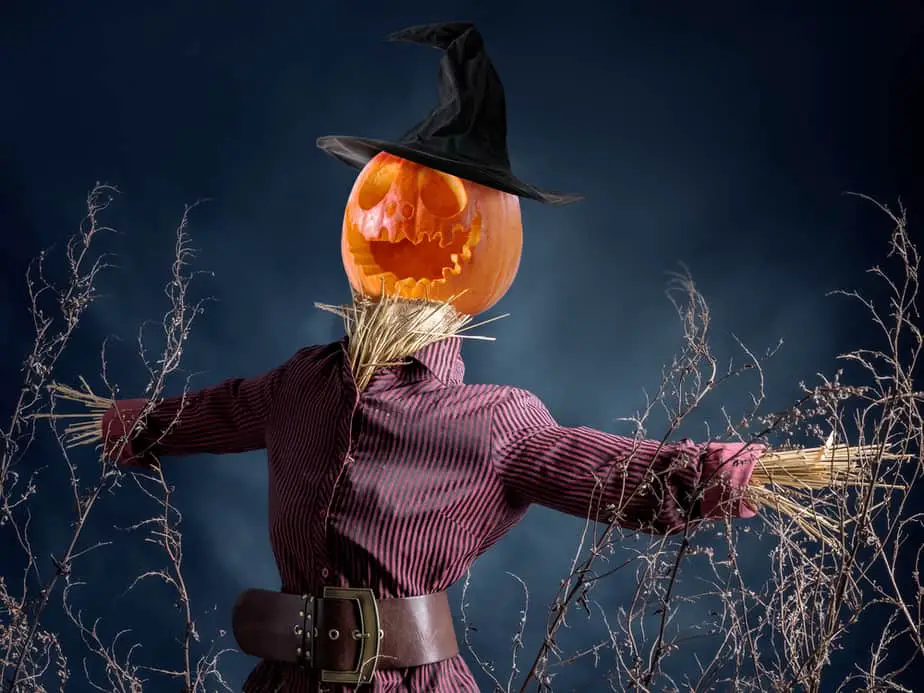 Scary crows are nothing without a frightening scarecrow. These scarecrows can have jack-o-lantern heads and be made of straw or filled with cotton. If you want your yard's focus to highlight the crows, make your scarecrow look terrified to be around them. Or if you're up for a trick of your own, dress up as a scarecrow, stand perfectly still, and jump out when your guests arrive.
6. Black Cats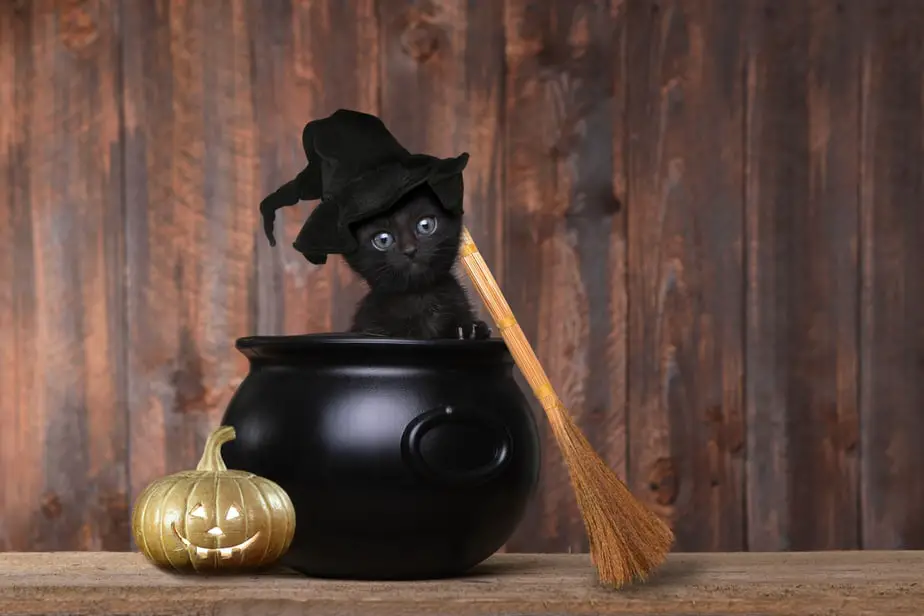 In real life, black cats are some of the sweetest, cutest cats you'll encounter. But superstition and old wives' tales have led us to associate them with bad luck and general spookiness. Naturally, this means you'll want to fill your yard with as many black cats as possible.
Of course, we're not talking about real black cats – you'll want to use ceramic or plastic statues instead. But if a real black cat happens to walk by and wants to hang out, well… it basically means you've won Halloween.
7. Creepy Dolls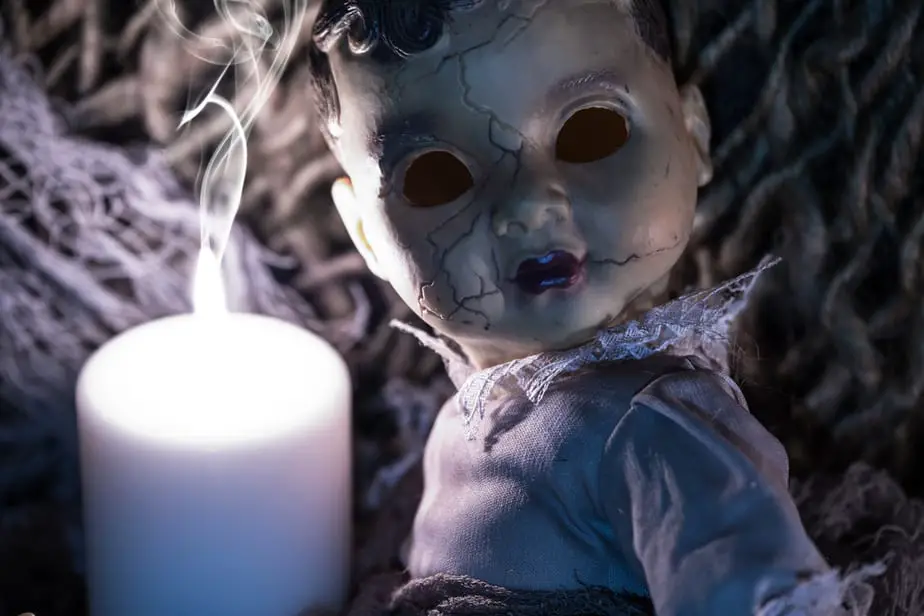 Like spiders, dolls are a common fright point, one which you'll want to exploit this Halloween. All you'll need to do is collect several dolls and place them in random spots around your yard. If they're old and tearing or cracked and grey, that's even better!
For an extra dose of creative fun, you can use your dolls to tell a story. Maybe they're summoning a monster or hiding a body. Or maybe they're possessed by the spirits inside your own home…
Getting Your House Involved
Some Halloween yard ideas will spill over to your house. We've already mentioned putting cut-outs in your window or spiders on your deck, but here are some Halloween yard ideas that will put your home in center-stage.
8. Caution: Crime Scene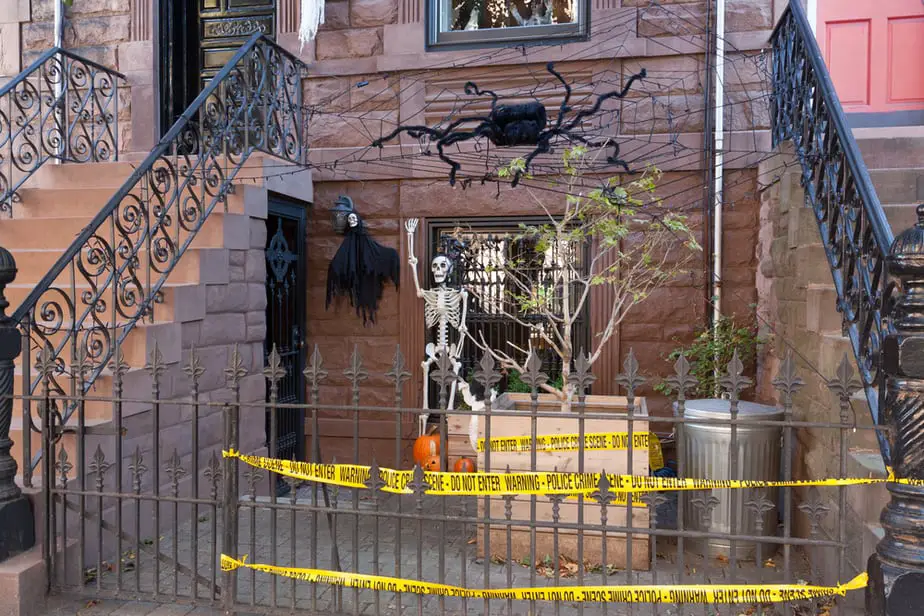 A fun, easy way to liven up your yard is by covering it in yellow caution tape. You can string this tape around your bushes or use yard spikes to place it directly into your yard, and you can have it extend to the edges of your home. Of course, you'll want this tape to surround an equally spooky crime scene. We recommend including a friendly skeleton to smile ghoulishly at all passerby.
For an added touch, you can buy fake, plastic wood and tape it across your windows. This adds an extra "don't enter" effect, and it can even create a haunted house vibe. Speaking of…
9. Haunted House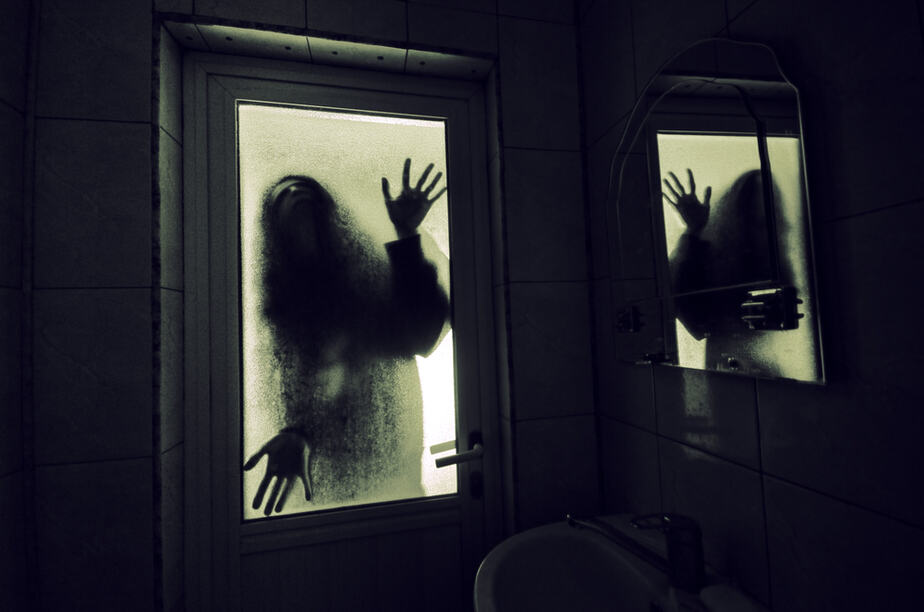 If your house is naturally haunted, you have a head start on this next idea. But for those of us with normal, non-haunted homes, our yards will require some sprucing up.
A unique and easy way to make your house appear haunted is by putting scary window stickers or construction paper cutouts on the inside of your windows. Trick-or-treaters will look up in awe, wondering if they've seen a ghost.
You can also set up projectors to cast ghostly images throughout the night. These images won't be visible during the daytime, but that's a nonissue, since everyone knows that ghosts only appear at night.
TAOCOCO Potato Ricer Stainless Steel Potato Ricer and Masher, Premium Manual Mashed Fruit Masher, Lemon Squeezer
MULTI-PURPOSE AND ERGONOMICALLY DESIGNED. With your comfort and convenience in mind, this product is designed for easy leverage so your hands won't get sore or tired using it. You can also use it for other veggies like carrots and turnips and even a baby food press. Want to prepare fresh fruit juices? It also functions as a fantastic fruit drink maker!
MASHING POTATOES IS MADE EASY. Don't you wish you can create perfectly smooth and fluffy mash with less effort? With this product, you can achieve a creamy, heavenly dish quickly and conveniently. It is comfortably cushioned and ergonomically designed, making it a welcome relief for people with arthritis.
100% RUST-PROOF AND MADE OF HIGH-QUALITY MATERIAL. Crafted from 100% rust-proof, high-quality material, this product is resistant to stains, corrosion, and deformation. It is also designed for easy storage.
To be a potato or pumpkin squeezer the ricer potato masher would not take a lot of force to get the puree; To be a fruit squeezer or juice squeezer it need to use some effort to squeeze the lemons or fruits
100% CUSTOMER SATISFACTION GUARANTEE. You don't need to be a professional chef to create five-star-quality culinary wonders. With this product, each dish you make becomes a tasty treat. It's a must-have for your kitchen. Add this to your cart and get this today. We're sure you'll love them. But if you think you made a wrong purchase, we'll send your money back. No questions asked!
Last update on 2020-04-05 / Affiliate links / Images from Amazon Product Advertising API
New Animated Projector Lights,8 Slides LED Projector Night Lamp IP65 Waterproof Landscape Projector with Remote Control for Holiday Party and Garden Decorations
🎄【Coherent Animation Effects】This new projectors are different from others. It will project an image with cartoon effect.Including 4pcs for Christmas: running elk in the snow, snowman hat, Santa Claus gift, happy Christmas; 4pcs of Halloween: pumpkin face series, flying witch series, dancing human skeleton, vampire escape coffin. Children will love them so much. Let's enjoy fantastic Lighting Show!
🎄【Remote Control & Automatic Timer】There are multiple buttons on the remote control that can adjust the slide show's playback speed and allow it to stay on a certain fixed screen. You can also adjust the playback speed of a single slide show. Default 6 hours at regular time.The machine has automatic timing function, built in internal 24 hours circularly timer, 2/4/6 hours ON and 22/20/18 hours OFF automatically.
🎄【Waterproof LED Projector Light】Our Christmas animated projector light is IP65 waterproof level , allows to used in dry , damp and wet location.Whether there's rain or snow, you can make your home sparkle any time.(Note: don't immerse it into water directly)
🎄【Indoor/Outdoor Use】 Projector light can be used indoors and outdoors, When you hold a party or celebrate a holiday indoors, attach the base.When you want to decorate your courtyard with it. With the ground spike, you can plug it on the ground to make your entire courtyard perfect.
🎄【5-Star Post-Sale】We offer 1 year quality and satisfaction guarantee,24hrs easy-to-reach customer service. So please contact us at anytime if you need.
Last update on 2020-04-05 / Affiliate links / Images from Amazon Product Advertising API
Last update on 2020-04-05 / Affiliate links / Images from Amazon Product Advertising API
---
10. Boneyard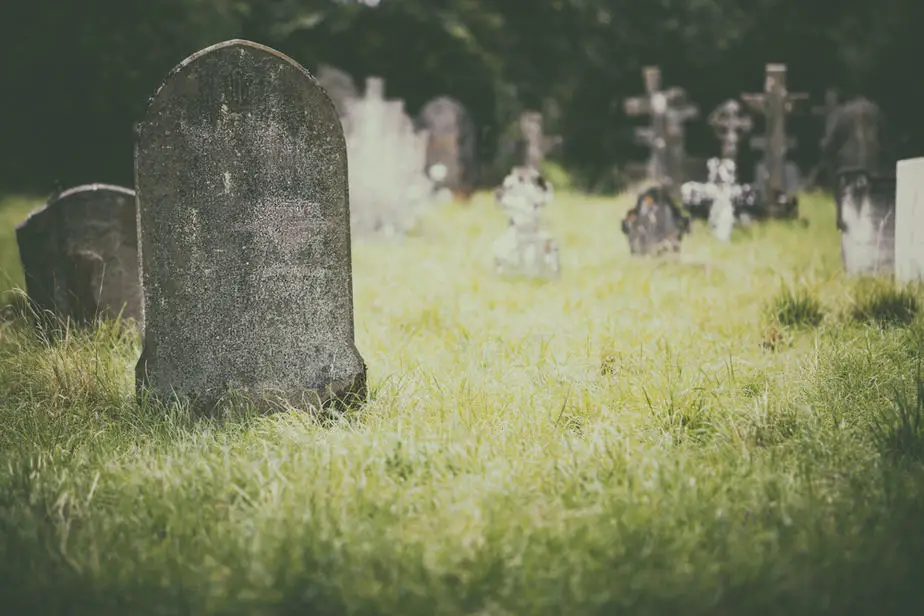 Creating your own personal cemetery can take your yard from Halloween-novice to Halloween-expert. You have three options: cover your yard with bones, cover it with headstones, or do both! You can even personalize the tombstones with the names of fictional characters or you and your friends. Whether you buy these tombstones or make them yourself, you'll want the names to be large and easy to read. And to make the display less morbid and more fun, you can always include funny epitaphs.
For an extra touch, add bones to your deck or place them inside your windows; this way, it will look like the skeletons have come back to life and made their way inside your home.
The Halloween Fantasy
Halloween isn't just about the creepy crawlies — it's also about dressing up in costumes and believing in the fantastical for a night. So, don't feel like your yard is limited to monsters and things-that-go-bump-in-the-night. Your Halloween yard ideas can also be sweet, whimsical, and downright cute.
11. Fairy Garden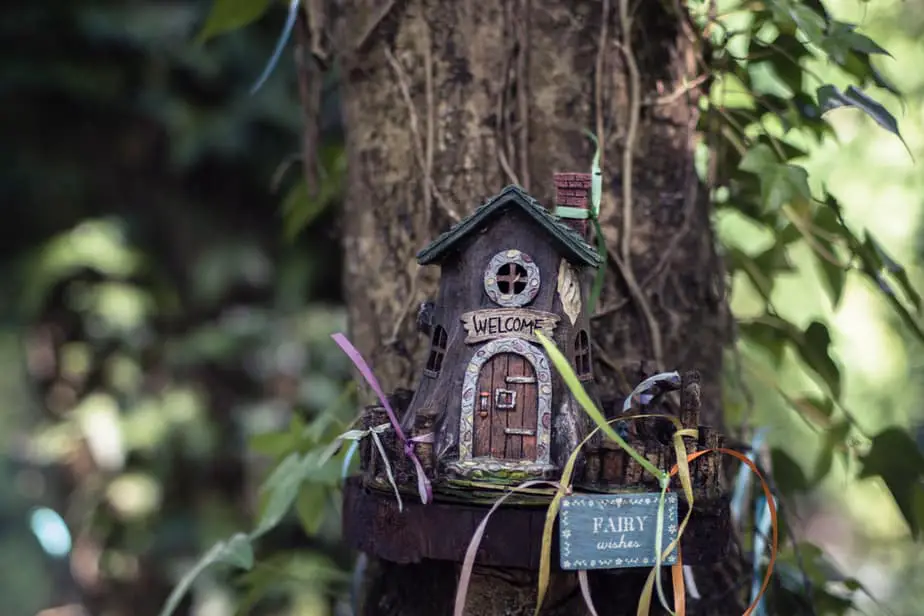 If you want your yard to be more of a treat than a trick, you can glow up your yard with fanciful creatures, like fairies and elves; you can even include their tiny houses. As a plus, you can reuse these decorations for other holidays, like Christmas. Just make sure to use good lighting for that extra fantastical feeling.
12. Garden Gnomes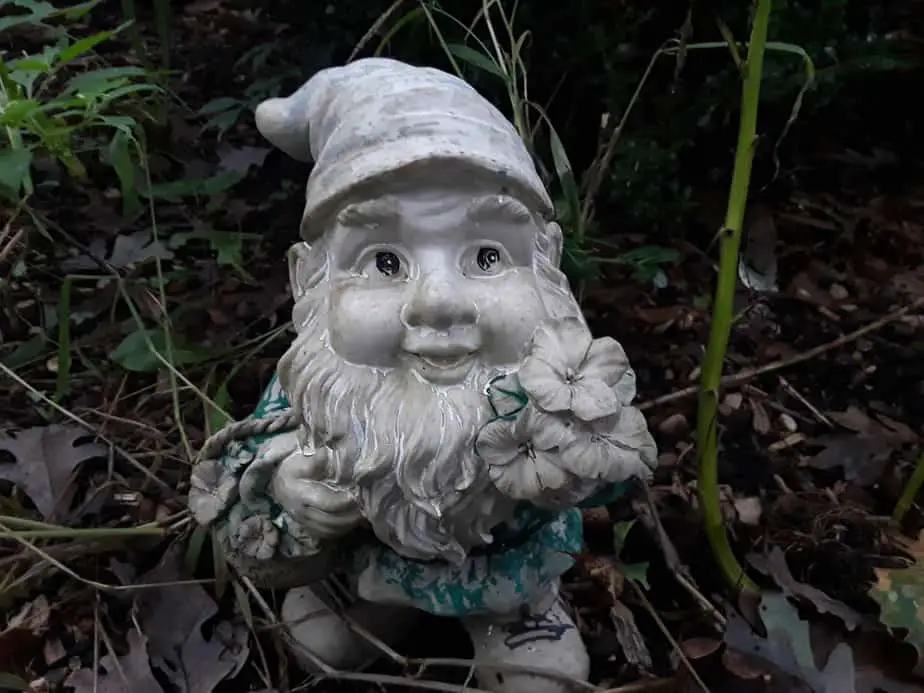 Garden gnomes are a fun way to add a little whimsy to your yard. You can choose scary gnomes or cute, trickster ones, and you can place these gnomes besides black cats or in trees or pumpkins. A gnome can be a good way of saying, "Hey, it's Halloween, but don't forget that it's also Fall!" And once the holiday is over, you can keep those gnomes up as decorations all the way through Thanksgiving.
Quick Halloween Add-ons
If you're reading this article the day before Halloween, you're running low on time, and you'll need some quick Halloween yard ideas to get your yard ready. Or maybe you've already put up all your supplies but want an extra dose or two of fright. Either way, here are some DIY suggestions that you can make and put up quickly.
13. Eyes… Eyes Everywhere!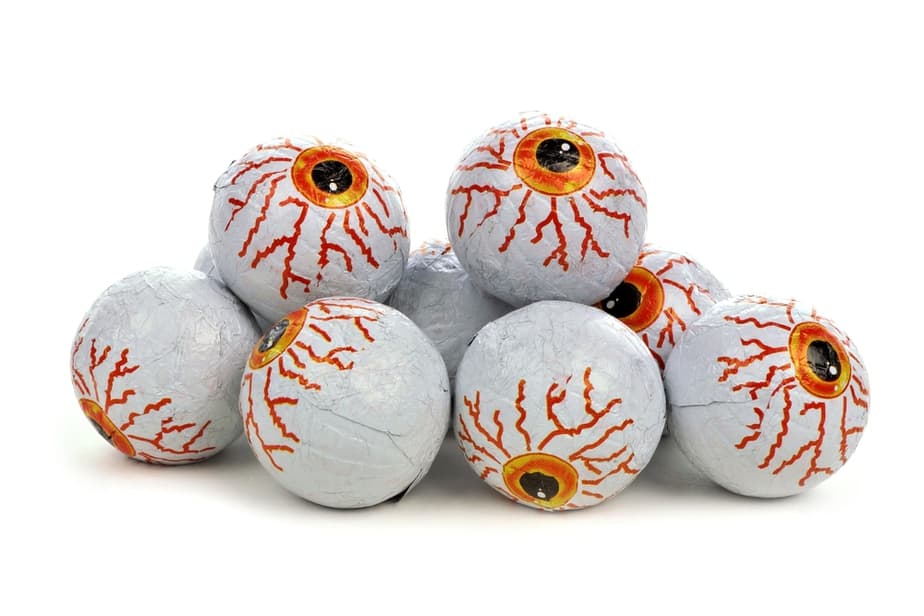 If you're limited on time this year, a simple, inexpensive way to make your yard truly chilling is by covering it in eyeballs. Place them in trees, toss them in shrubs, and set them beside your flower bed. You can DIY these eyeballs by taking any round object and painting it white. You can also buy eyeball-shaped candies and hand them out to your guests.
14. Glass Ghouls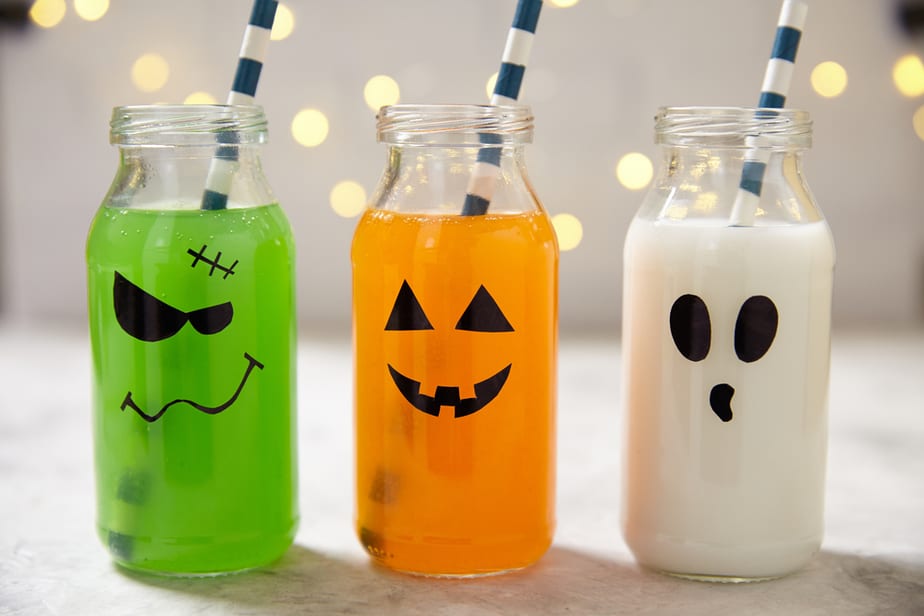 An easy way to spice up your yard is by painting glass jars with creepy faces and filling them with colored liquids. You can also put a candle inside your jars, which will make the faces glow. These jars are easy and quick to craft, and they're a fun way of making your yard just a bit more ghoulish.
15. Specimen Containers

If you have some extra jars leftover from your glass ghouls, here's an easy trick to make your yard a bit scarier. You'll start by filling each jar with dyed liquid. Then, find some creepy objects that look like body parts. If you have some leftover eyes, they'll work great here, but any fake body part will do!
16. Balloon Faces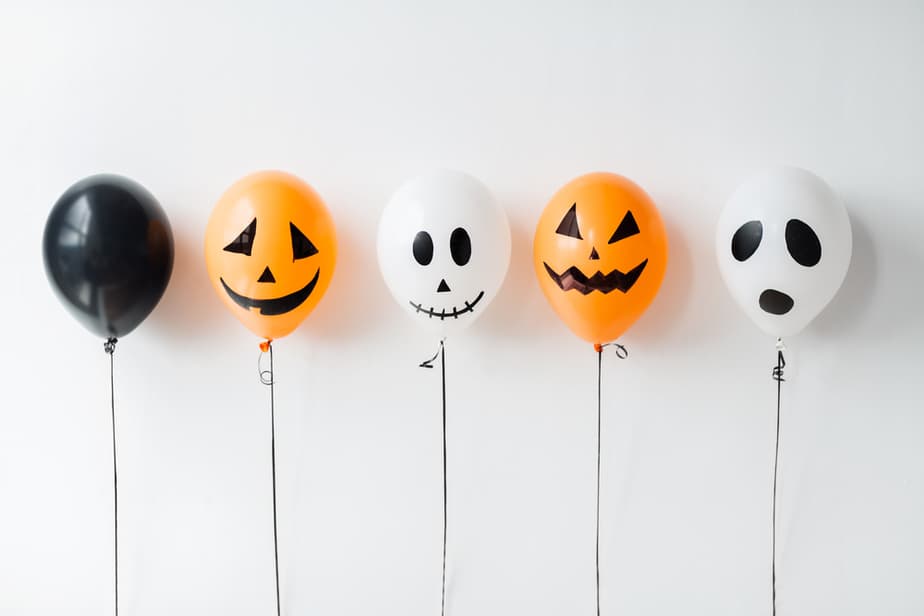 If you have some balloons and markers lying around, you have all you need for this next decoration. First, take a marker to each balloon and draw a funny or creepy face. Next, fill the balloons with either air or helium – if you have helium, the balloons will float, and you can easily tie them to your fence where they'll hover above your visitors. But if you don't have helium, you can tape these balloons to a tree limb or house beam where they'll eagerly greet your guests.
Using What You Already Have
There's an unspoken competition each Halloween to have the spookiest, creepiest yard. But if you don't plan ahead, spooky can also mean expensive. Fortunately, we have some Halloween yard ideas that are cheap or completely free.
17. Repurpose Your Leaves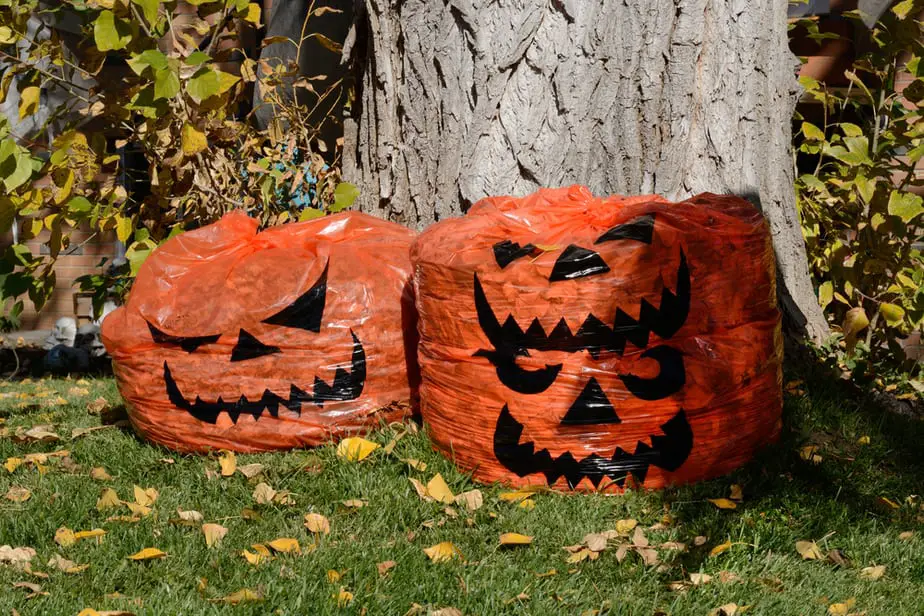 Fall is a time for jumping in leaves, raking leaves, and just generally being surrounded by lots of leaves! Instead of throwing those leaves away, why not stuff them in a ghost or pumpkin-shaped bag? This way, you're able to clean up your yard and create something frightening to scare your neighbors.
You can buy these bags online, but you can also take a normal trash bag and use paint to draw on a face. Either way, you'll be left with a less messy yard and a fantastic new Halloween decoration.
18. More Fun with Leaves!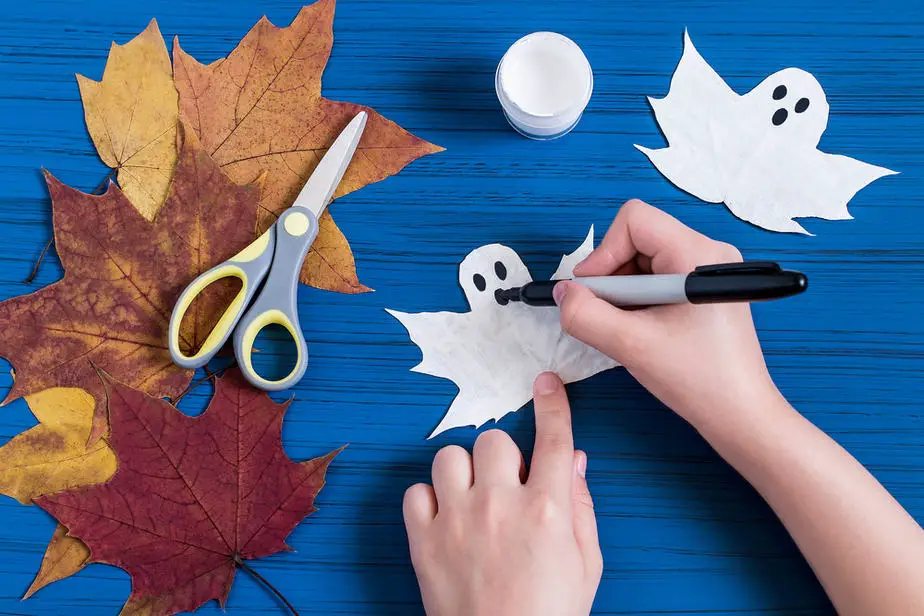 Not only can you use your leaves to fill bags, but you can also paint them white and add tiny ghost faces. Cute and creepy, these leaves might seem like a simple addition to your yard, but they can also be the perfect finishing touch.
19. Killer Pumpkins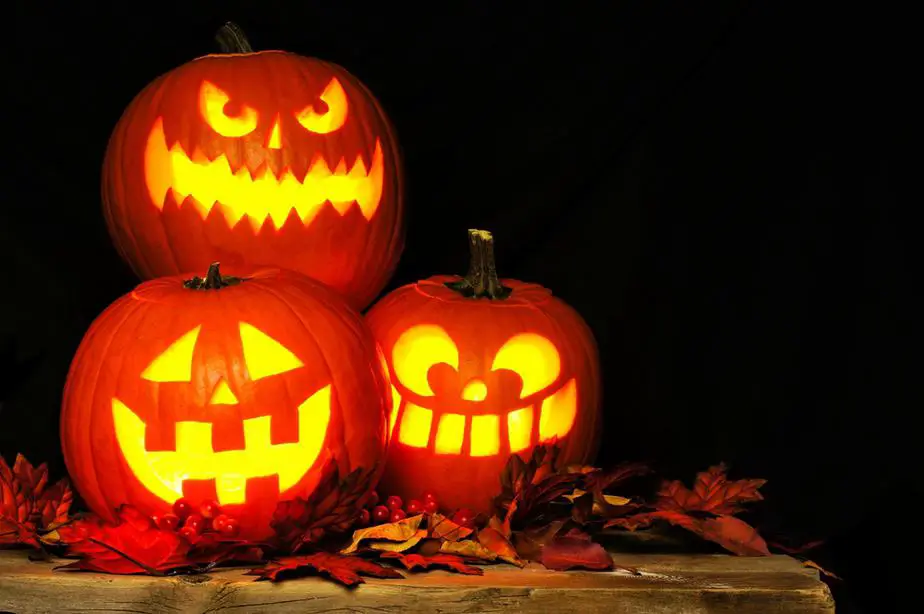 Carving jack-o-lanterns is a fun way to bond with your kids. It's also a way to take your yard to the next level. This next Halloween yard idea involves assembling several themed pumpkins. You can carve these pumpkins yourself by printing out and following templates (but bewaaaaaare: it's gonna get messy).
Whether you decide on scary or kooky pumpkins, these decorations are quintessentially Halloween, and your yard isn't complete without them.
Final Thoughts
Decorating your yard this Halloween doesn't have to be a hassle. It can be a fun, creative venture that will be as enjoyable for you as it is for your guests. Whether you want your yard to terrify your neighbors or delight trick-or-treaters, we have the tricks to get the overall look you desire. And by following our Halloween yard ideas, decorating will become a real treat.