Starting a fencing project can be a daunting task, but like any significant undertaking, preparation and planning are the keys to success. In this article, we'll be providing you with an in-depth guide to how to install an aluminum fence.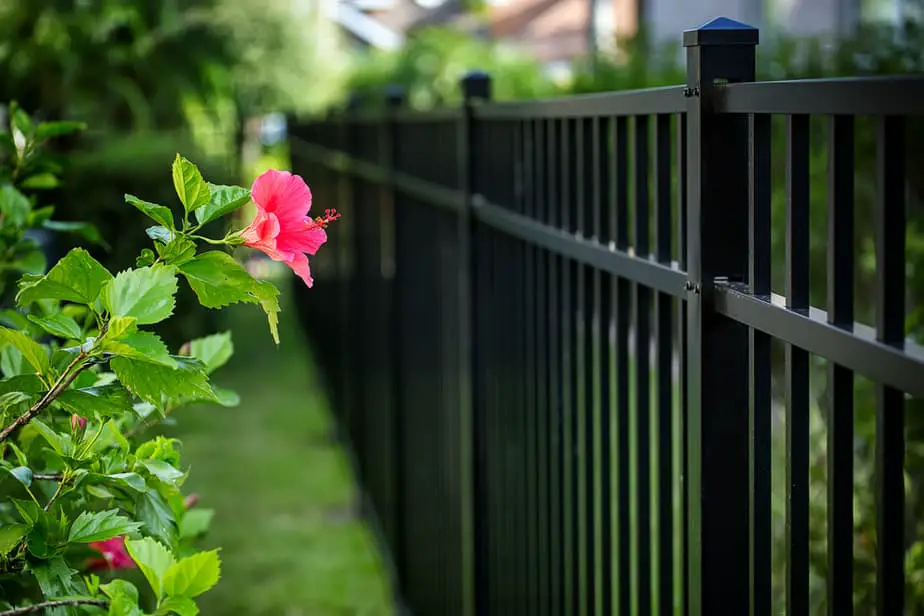 Fencing Prerequisites
Check the exact location of your boundaries, and be sure to mark these carefully so that the fence installation is on your property. Also, ensure that there are no easements which may limit the design and location of your fence. It is also a good idea to check for local by-laws regarding the size of the proposed fence. Neighbors should be involved in your planning, and those directly adjacent may split the cost with you. Depending on the local council laws, it may be necessary to apply for a building permit.
Benefits Of Aluminum Fencing
When compared with other fencing options, installing an aluminum fence is relatively easy. In addition, aluminum provides a robust and durable fencing option, which requires very little maintenance. The versatility of aluminum also means it can be adjusted to fit different landscapes and has the added bonus of being available in various colors. Aluminum fences are suitable for front and back yard installation as well as to provide pool security. Consider this type of fencing also if you need enclosures for dogs and child-play areas.
Installing an Aluminum Fence
Materials Required
When planning your aluminum fence, allow for end posts, corner posts, gate posts, and line posts. End posts have holes on only one side and are used as starting and stopping points while corner posts have holes on adjacent sides and are used to make right angles. Line posts have holes on opposite sides and are used for straight runs of fence. Gate posts should be placed on both sides of the gate to support the gate's weight and to withstand the impact when the gate latch closes.
Panels come in 6-foot lengths, so you will need to allow for this in your measurements. For example, for a 10-foot stretch, allow two panels. Some companies will offer panels of different lengths and widths, and this can be arranged at the time of ordering. The height of the fence will also affect the look and the cost of your fence. Fence panels come in heights of between 2.5 feet and 6 feet for residential purposes. Gates may feature more elaborate designs. A double gate will be needed for driveways and a single gate for walkways.
Many companies offer online support for planning and ordering aluminum fencing materials. The process can be simplified with the guidance of customer service professionals. They can provide a range of services, including software that allows you to visualize the fence in place. It is possible to enter the fence's measurements, including gates needed, and the software will be able to determine the exact amount of aluminum panels and posts required. Of course, it is imperative that the measurements supplied have been thoroughly checked to ensure that the installation process is not held up by having to order extra posts or panels. The range of colors and grades of aluminum fencing offered is also readily available to view online. The online purchase of materials is also coupled with very explicit installation instructions to guide the novice fence builder. Of course, thoroughly reading the instructions is crucial.
In addition to the fence components, you will need a large number of tools and other supplies. Some tools may be rented if necessary.
Aim to secure the following:
A post hole digger
Concrete mix and mixer
A shovel and hoe
A long level
Stakes
String
A hacksaw
Rubber mallet
A hammer
Screwdriver or drill
Planning The Layout
Part of the preparation phase also requires a detailed plan of the fence. Measure the area to be fenced and insert stakes at appropriate intervals where you intend post holes to be dug. Map out where corners and gates will be needed. Tie string between the corner stakes to define the line where posts will be located. It is essential that all the stakes actually touch the string.
Digging The Post Holes
The aluminum posts for your fence will need to go in 2 foot deep holes with a 6-inch diameter. Before even getting the post hole digger or auger out, make sure you know where all the underground cables or telephones lines are so you can avoid cutting any essential services. Try to determine the number of sections in each straight run of fencing and allocate the available space so that short runs can be positioned evenly at the ends. Consider hiring an auger if you have a large area to fence requiring lots of aluminum posts. The type of soil you are digging in will determine how difficult the digging will be.
End posts need to be placed as close to the house as possible without actually touching the house. If the house footings mean you are more than 4 inches away from the house, you will need to use some wall mounts to attach the end posts to the house.
A wet-set concrete mix is best to use as it provides a more solid anchor system for each post. It helps to have the holes pre-dug and then having 3-4 fence sections assembled with their respective posts lying on the ground. Stand them all up at once, place them in the pre-dug holes, and then do the concrete mix for 3-4 holes.
Have the screw heads facing towards the property
How Much Does It Cost To Install Aluminium Fencing?
Price is a significant factor in deciding how to achieve the desired fencing for your property. Some of the labor cost of fence installation is avoided with aluminum fencing because this fencing generally comes pre-built and segmented. With professional installation, aluminum fence costs vary per foot or 100 feet. Prices will vary depending on the height, the style chosen, and the complexity of the installation. A sloping property or other obstructions like trees or large rocks will make the installation more difficult.
For the DIY project, the materials for an aluminum fence can vary in price though obviously there is some saving in labor and using existing tools when doing your own fence installation. Again the style, metal strength required, the height of the fence, and the number of posts and gates will impact the price. The table below should provide a gauge for different options.
Low Estimate
$2,650 – $3,100
Average Cost Estimate
$3,150 – $4,310
High Estimate
$4,680 – $6,190
Description
120 Linear Feet, DIY
120 Linear Feet, DIY or Pro
120 Linear Feet, Pro
Per Linear Foot Cost
$22 – $26 / foot
$28 – $36 / foot
$32 – $46 / foot
Fence Height
2.5 – 4 Feet
3 – 5 Feet
4 – 6 Feet
Installed By
DIY
DIY or Pro
Pro Installed
Fence Cost
$1,590 – $1,750
$1,720 – $2,490
$2,350 – $3,150
Supplies Cost
$150 – $300
$250 – $400
$250 – $400
Walkway Gates
1
1-2
1-3
Driveway Gates
0
1
1
Site (Yard) Difficulty
Simple
Simple / Moderate
Simple / Difficult
Permits and/or Survey
$75 – $225
$75 – $225
$75 – $225
Other Cost Factors To Consider
Where Your Home is Located – Time to travel and fuel costs will be added to the cost of delivery or professional installation.
Obstructions – The removal of old fencing, trees, roots, rocks, and other obstacles raises the cost.
Ground Elevations – Having to modify the ground level or modify the fence configuration will increase the cost and time taken to complete the fence.
Time of Year – It is worth considering the time of the year you want the fence built. Installation companies are less likely to offer discounts and competitive pricing options at busy periods of the year. Avoid high rainfall or potentially bad weather months for proposed installations.
Final Considerations
Aluminum is strong and durable, yet light and easy to transport and install. The products arrive as pre-made panels that attach to aluminum fence posts. The aluminum fence creates a modern, long-lasting option with possible do-it-yourself assembly. The powder coating prevents corrosion and comes in a range of colors that may be mixed and matched to create a unique aluminum fence of your design.