One of the most difficult challenges for rural gardeners is deer control and, unfortunately, they find most of our favorite fruits, vegetables, and plants a delectable meal just like we do! If deer discover your growing beds, they'll soon find no problem munching on the goodies that you've planted in your garden!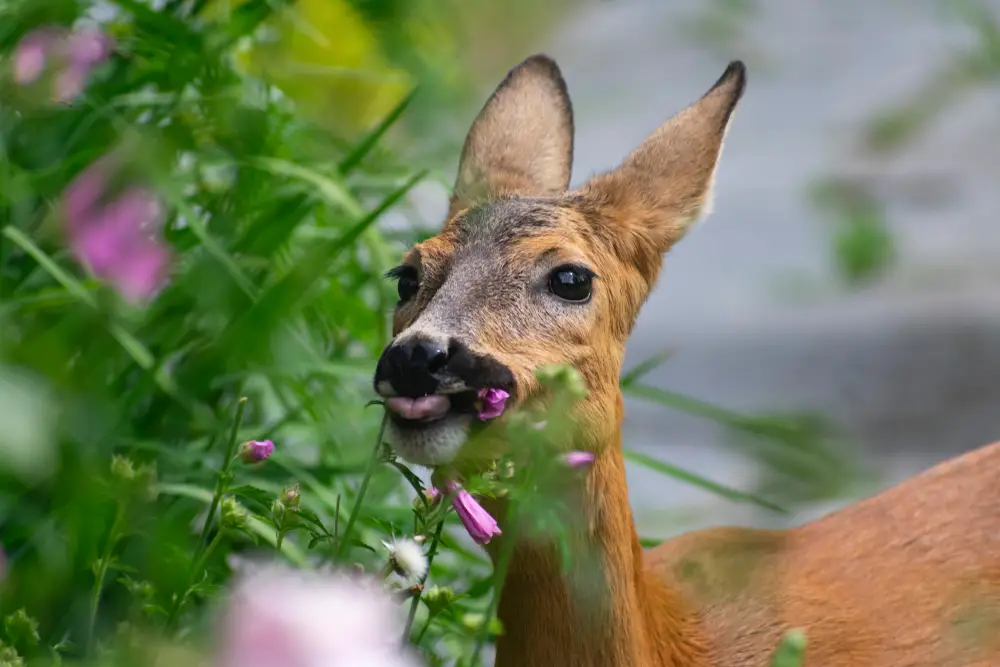 We'll provide you with a comprehensive guide that shows you how to keep deer out of garden beds using 21 tactics that are proven to work for many growers! Let's jump right in and see what they're all about!
1. Create an Invisible Fence
Kicking off the list with one of the most popular and brilliant solutions to keep deer out of garden beds is an invisible fence! Of course, the first thing that comes to everyone's mind when keeping an animal out is using a fence.
However, with the deer's extraordinary high jump, a regular fence might be useless against them. The secret here is to create an invisible fence that the deer can't see but is still durable enough to stop them from crossing.
What's great about the invisible fence is that it works like charm while allowing you to enjoy the beautiful scenery of your garden. Another great thing about it is that it doesn't require any DIY skills to build it yourself.
For the invisible fence, you'll need several spools of clear fishing line depending on the size of your garden.
Start by anchoring several tall wooden stakes (about 5 to 6 feet tall) deep into the ground surrounding your garden to keep the wall sturdy. After that, string the fishing lines around the posts to form several rows about 3 to 4 feet apart.
Deer won't be able to see the ultra-durable fishing line, so they won't attempt to jump over it and would typically flee the scene in confusion rather than staying and trying to find another way in. Make sure that you check the fence every day to keep it sturdy and well planted into the ground.
2. Avoid Planting Appealing Fruits and Veggies
This might sound like a no-brainer, but you'll be surprised at how effective this method can work. Deer might be hungry, but they're still wildly picky eaters.
In most cases, deer will show up at your garden in a particular season where they're out foraging and looking for food. The best way to avoid getting your crops eaten by the deer is by planting deer-resistant plants that they don't like to eat.
Deer typically rely on their sense of smell while looking for food, so having a pungent-smelling crop would typically steer them clear off your yard.
There are also some regular crops that don't smell or taste pungent but they don't go down well with deer.
If you're all about planting edible food items, there are plenty of edible crops that deer typically dislike, such as:
Onions
Leeks
Garlic
Asparagus
Chives
Eggplants
Carrots
Lemon balm
Oregano
Fennel
Dill
Sage
Mint
Lavender
Fig
Parsley
Rhubarb
Artichoke
Thyme
Marjoram
Tarragon
3. Use Ultrasonic Animal Repellents
Throughout years of research and studies, audiologists found that humans have quite a narrow audible field when compared to other animals. For example, humans have an audible frequency range of 2 to 5 kHz at best while deer have a much wider range of 4 to 8 kHz.
This means that deer are capable of hearing a wide range of ultrasonic waves that we can't simply pick up. Many pest control companies used these findings to create what is now known as "ultrasonic repellents".
What's great about these devices is that they're not toxic or harmful to either humans or animals. However, it has proven to be quite effective at forcing wildlife to keep their distance from gardens and yards.
These devices work by using a set with motion sensors that will detect any movement within a specific scope and distance that you can adjust.
Once they detect any disturbance or movement within its field of detection, it'll release the high-intensity ultrasonic waves that humans can't hear but animals can.
One drawback of this method is that it can also be irritating to house pets, such as cats and dogs, which can also hear these waves, so you have to keep them at a suitable distance from the device.
4. Install Double Wall Fencing
A lot of people think that the best solution for how to keep deer out of garden beds is to build a very high fence that deer can't jump over.
While they're technically right, if you've ever watched a deer run, you'll realize how high they can jump. In fact, deer can easily jump as high as 8 feet, so if you're going to build a fence around your garden or yard, make sure it's at least that high.
Another thing you should know about deer jumps is that they can get high at the expense of distance. In other words, deer can only jump very high or very far, but not both. Deer also don't like jumping into enclosed spaces where they'll end up trapped inside and unable to jump back out.
You can use this fact to your advantage by building a double wall fence. To do that you need to build a box wire or chicken wire fence around the garden or your yard that's about 5 feet tall.
After that, surround it from the outside with a sturdier picket fence of the same height and at a distance of 5 feet. This should play on the deer's poor depth perception, so they won't try to jump both fences.
5. Plant Thick Hedges of Dense Evergreen
Deer aren't the adventurous kind of animals and they typically don't jump fences unless they can clearly see what's in it for them on the other side.
By keeping the plants of the garden out of their sight, you'll surely keep them out of their mind, too, and they won't jump the fence even if it's a low one.
The easiest and most aesthetically pleasing way to completely hide your garden from deer is by using sprawling thick hedges of a short needle or boxwood spruces around your garden.
These evergreen dense bushes don't produce fruits and are typically deer repellent, so deer won't consider jumping over them.
6. Sprinkle Soap Shavings Around the Yard
Since deer have been invading private properties for ages, there have been tons of old remedies to keep them at bay. However, one of those classic methods to prevent deer from munching on the garden's plants has been going on strong to this day!
To use this method, you'll need a bunch of soap and a long-grain grater. Start grating the soap bars into small shavings and spread them around the plants. Ideally, any fragrant soap except coconut-scented ones would do the trick (coconut scent will attract them).
According to scientific research, the fatty tallow in the soap is the main deterring agent. Also, most of these soaps are typically low in sodium, so they shouldn't harm the plants when they're used during the deer season.
Applying this remedy should also last for quite a while (almost a month) because they only break down when it rains.
Despite their low sodium content, they still have enough to dehydrate bugs, aphids, and other pests that might be in the soil.
7. Wrap the Plants in Protective Netting
Although standard fencing may not work when it comes to how to keep deer out of garden beds, directly wrapping them in protective netting would usually work.
These nettings and wraps work as physical barriers to prevent the deer from reaching your edible goodies.
Typically, the confusion should be enough for the deer to run away, but even if they persist, the netting should give you time to find out about deer in your yard and spook them away.
There are plenty of protective options out there that you can try out, such as garden netting, camouflage netting, and tree wraps, depending on the type of plant you want to protect.
Garden Netting
Eluck Bird Netting, 6.9 X 98 Ft, 3/4" Square Mesh Size, Protect Plants and Fruit Trees, Extra Strong Garden Net, Anti Bird Deer Protection Net, Doesn't Tangle and Reusable
🐔Adapted with 3/4 " Nylon, this bird netting is of high intension which can effectively protect your fruit, vegetation and fish from birds,squirrels and other thieving animals.
🐭UV inhibitor insures a longer life of this garden netting.
🦌No Hurt To Animals : This pond netting is chemical free and has no sharp edge, which just keeps animals from entering and will cause no harm to them.
🐦Coming with 50m Garden Twist Tie, it is easy to use and roll up.
🦊Net size : 6.9 * 98(feet)Mesh Size : 3/4" Square.
Last update on 2023-09-18 / Affiliate links / Images from Amazon Product Advertising API
---
Camouflage Netting
iunio Camo Netting Camouflage Netting, Camo Net Bulk Roll Camouflage Mesh Nets for Hunting Blind Deer Stand Military Party Decorations Sunshade Camping Shooting (16.4ftx4.9ft, Black)
【Premium Material】- The iunio camo netting is made with premium cloth with many added features and treated to eliminate shine and glare. For hunting blind purposes, please soak it in water with laundry detergent for around half hour then let it dry by itself, it will come quieter and rustle-free after this process is done.
【Easy to Cut to Fit】- Our camouflage netting has no interwoven rope or string which means you can cut it to any size to meet your needs without it unraveling to use in multiple areas. Then, simply secure it with the included cable ties. This camouflage cloth is washable, reusable and environmentally friendly!
【Lightweight & Easy to Carry】- This camo netting mesh does not require a heavy support system to hang. Easy to use indoors and outdoors regardless of your age! Does not take up space when stored; simply fold back up and store in the garage or closet. Take this camouflage net with you on your next outdoor excursion and feel confidently covered in the wilderness.
【Wide Applications】- The camo net is great for theme party decoration like Jurassic World Park, Army, Nerf, Airsoft, and also ideal for Military Surplus Applications, Shoot Through Mesh, Duck Blind Grass, Tree Houses, Hunting, Home Decoration, Kids Bedrooms, Photography, Birthday Party, uses are only limited by your imagination.
【Customer Service & Warranty】-Welcome to contact us for Business order! All IUNIO camo netting camouflage netting are backed with our professional customer service! We'd like to accept any solution to meet customers' requirements if customers are not satisfied for any reason!
Last update on 2023-09-18 / Affiliate links / Images from Amazon Product Advertising API
---
Tree Wraps
Asdomo 2 Pack 65 FT Tree Protector Wrap, Winter-proof Tree Protector Wrap Plants Bandage Packing Tree Wrap for Warm Keeping and Moisturizing
Size: You will receive 2 rolls of tree protector, each roll is approximately 65 feet long and 4.7 inches wide. Sufficient length to protect the tree, you can cut it to any length to protect multiple trees.
Material: Made of high-quality non-woven fabric, it has a good effect of keeping warm and moisturizing, which helps plants resist the cold, and at the same time, the breathable performance of the plant protection cloth allows your trees to breathe freely.
Function: Help trees withstand winter cold and frost damage, prevent trees from being exposed to high-intensity sunlight, and allow trees to grow healthily. Reflects heat and sun protection, with good breathability. Improve winter survival.
Easy to Use: Just fix the wrap at the bottom of the tree, then spiral up on the tree to reach the appropriate height, fix the upper end with a rope, and the tree protection can be easily done.
Application: Trunk protector is suitable for all kinds of fruit trees, shrubs, landscape trees, garden ornamental trees, and can also be used for nutritional protection during plant transplantation.
Last update on 2023-09-18 / Affiliate links / Images from Amazon Product Advertising API
---
8. Dry Out Any Puddles or Standing Water
Food isn't the only thing that deer are after. They'll also make a stop around any open-source of standing water to take a sip. And as nature thought them, you typically find water and food in one place!
In that case, it's more likely they'll look around and spot your little piece of heaven. Keep in mind that the longer the deer hang around your property, the more comfortable and secure they'll feel. So you have to make your yard and garden as unpleasant for them as possible.
9. Plant Prickly and Thorny Foliage
Speaking of unpleasant, it's already established that deer will typically sniff out food products before taking a bite. If you want to protect your garden, you might want to plant some prickly and thorny foliage around the garden to trick the deer into avoiding your garden.
Plants like cactus, holly shrubs, and hawthorns are known for their prickly nature. By planting them strategically on the garden's borders, you should guarantee a safe garden.
In addition to prickly foliage, deer will typically avoid food with a fuzzy nature, as well. For that, you can plant barberries, lamb's ear, and cleome around your garden.
10. Let the Dogs Out!
Deer are prey to various canines and distant relatives to dogs, such as wolves and coyotes. That's why they don't take a chance of being anywhere near dog-like creatures, including dogs themselves.
Regardless of the breed and size, deer would typically give your garden a pass if they see, smell, or hear a dog around your household.
For that reason, keeping your pet dog out as much as possible is a surefire way to naturally deter deer as well as a variety of garden pests and intruders!
11. Use Motion-Activated Water Sprinklers Around the Garden
In addition to proper fencing and creating a barrier, spooking a deer is a highly efficient method to keep them out of your yard. However, the new generation of urban deer is less intimidated by shiny objects and reflective mirrors.
However, the sudden attack of a water sprinkler will make them think twice before approaching your yard again Deer trots and jumps are quite easy to pick up by most motion-activated water sprinklers on the market.
The sudden noise of the sprinklers combined with the spray of water would scare the deer all the way home!
While buying a sprinkler, make sure that you get an adjustable type to control the amount of water and the sensitivity of the sprinkler to save on your water bills.
12. Use Floodlights to Keep Them at Bay
No products found.
Shiny objects may not scare deer anymore, but floodlights and sources of light still do. This is because too much light makes the deer feel vulnerable and visible to predators, which they typically avoid.
There are also motion-activated LED lights that are more efficient at scaring off intruders.
13. Spray the Plant with a Smelly Mix
Another old, yet highly effective, home remedy to keep deer away is by spraying a simple mix that has a rather unappealing scent. Despite the stinky smell, the formula has proven its success for years.
To make this mix, you need to add 1/2 cup of milk along with a single egg and a few squirts of dish soap and add water to about a gallon. Let the mixture sit in the sun for a few hours and spray it overnight.
The strong smell will send the deer running back to the woods and luckily, it should decay by morning, so you won't have to smell it on your own.
14. Make Some Noise
People have been scaring deer with clunking noise for ages now. You can create a similar effect using some empty tin cans. Simply hang them by threads and they should work like wind chimes to scare them off.
15. Use Scarecrows to Spook Them Away
Despite how old they are, you should never underestimate the ability of scarecrows to keep deer out of your garden.
If you don't have a pet or don't want to keep them out all day, you can place a model scarecrow of a coyote in front of your yard. Some scarecrow models can produce sounds or move their tails for added realism.
Flambeau Outdoors 5985MS-1 Lone Howler Coyote Decoy, One Size
PREDATOR HUNTING DECOY: Ultra-realistic body detail mimics the true-to-life definition of a coyote with the coloration of a mature male
NUISANCE ANIMAL DETERRENT DECOY: Excellent deterrent for unwanted vermin, including rodents, geese, and smaller bird species, when placed in or near barns, gardens, orchards, ponds, etc
VERSATILE DESIGN: Ultra-sturdy hard plastic construction with heavy-duty threaded leg posts and locking lugs. Features a removable leg design that allows the legs to fit conveniently in the body cavity for easy transportation or storage
DETAILS & FEATURES: Includes faux fur tail with a wire backbone for easy manipulation and realistic motion in the wind, a scent pad spike on the rear leg, and poseable ears to mimic a relaxed, alert, or curious presentation
FULLY ASSEMBLED SIZE: 30" L x 9" W x 25" H
Last update on 2023-09-18 / Affiliate links / Images from Amazon Product Advertising API
---
16. Leave Decoy Fruit Basket Outside the Fences
Keeping the deer out doesn't necessarily mean that you deprive them of survival food. If you only want to keep the deer from feeding on your garden's produce, you can simply leave them a basket of deer-favorite fruits away from the garden.
Like most animals in the wild, deer are always looking for the safest and quickest way to eat a meal without exposing themselves to danger. If you have a large property but you just want to scare the deer for good, such a tactic might be a suitable one for you.
17. Pick Fruits and Veggies As Soon As They're Ready
If you leave your fruits and vegetables too long after they're ripe, they develop attractive colors and aromas that make them easier to find by deer.
By picking the fruits as soon as they're ready and raking the yard for any food remains, you'll leave the deer with no other option than looking elsewhere for food.
18. Install an Electric Fence
Electric fences would give the deer approaching your yard a warning zap to keep out. Make sure that using electric fences is allowed in your region before installing one.
19. Build a Greenhouse
Deer typically don't understand the concept of transparent objects like glass and plastic sheets. After a few failed attempts to reach your garden through a greenhouse, they would typically ditch the idea and never come back.
Any serious gardener will consider building a greenhouse to have better control over the environment around the plants. You can easily buy one or build them by following any DIY plastic greenhouse tutorials on the internet.
20. Consider Commercial Deer Repellents
There are plenty of commercial deer repellents that are usually made of non-toxic and natural ingredients.
Although they can be relatively pricey, they're the quick and easy way out of this problem without too many changes in your daily routine.
The most popular products for the job are Deer Out and Deer Scram.
Deer Out
Sale
Deer Out 32oz Concentrate Deer Repellent
Over 100,000 Repeat Customers - For over 20 years Deer Out is the trusted brand for professional gardeners, landscapers and farmers alike. Works Great!
Minty Fresh Scent - Smells Great to Humans but Deer, Elk and Moose are naturally repelled by our Deer Out patented formula.
Wont Wash Off - Two Natural Stickers keeps Deer Out on your plants! Deer Out is Rain resistant.
All Natural ingredients - Deer Out is environmentally friendly using only natural ingredients. Safe for use around children and pets.
Year-Round Formula - Can be used in all Seasons: Spring, Summer, Winter & Fall
Last update on 2023-09-18 / Affiliate links / Images from Amazon Product Advertising API
---
 Deer Scram
No products found.
---
21. Seek Professional Help
Although some of these methods are bound to work for you, there's no shame in seeking professional help if you can't do the job on your own.
Luckily, there are plenty of animal control companies out there that specialize in deer-proofing your property.
Final Words
This wraps it up for today's guide on how to keep deer out of garden beds. As you can see, there are plenty of methods to try out if you want to prevent deer from eating your garden's yield.
One thing you should know is that some of these methods and tactics are efficient at keeping a variety of species at bay and not just deer.
It also goes without saying that some of these tactics might be more suitable for you or work better than others.
With some patience and dedication, you'll find the ideal method (or methods) to protect your garden from wildlife intruders that are going to work for years to come!