Whether you want to play intramurally or with a club, soccer can be an intense sport that demands the proper equipment, gear, and activewear to get the job done. One of the most important things while playing soccer is also one of the most overlooked: the shorts. If you're a girl playing soccer for the first time or this is a yearly commitment for you, you should know that having the best girls' soccer shorts can make or break your performance on the pitch or in an indoor environment.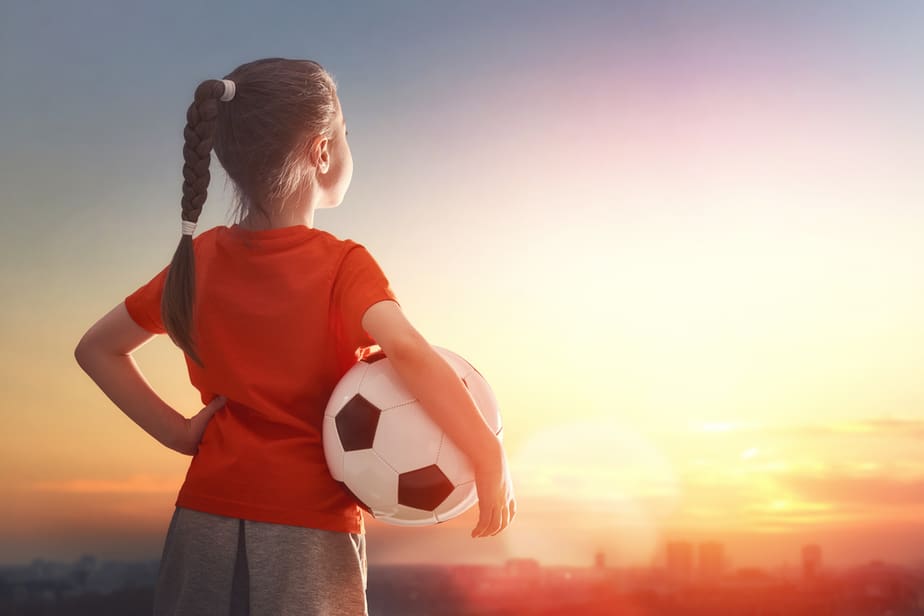 Luckily, there are plenty of great options out there for girl soccer players that need quality shorts to play in. We've chosen the top five best shorts for girls to play soccer in. Additionally, we'll tell you what criteria we used to make our decisions, and we'll also go over some frequently asked questions when it comes to choosing the best girls' soccer shorts.
In a Hurry? Here's Our Top Picks…
1. Adidas Youth Soccer Squadra 17 Shorts
Last update on 2023-11-08 / Affiliate links / Images from Amazon Product Advertising API
The Adidas Squadra 17 shorts are some of the best girls' soccer shorts available. They're made with 100 percent polyester material and feature an elastic drawstring closure that makes for an adjustable, comfortable fit. The drawcord will allow you to adjust how tightly or loosely your shorts feel while you wear them.
These shorts come in six attractive colors. They include black, red, white, bold and dark blue, and dark grey. It features a standard cut that allows for easy, unrestricted movement for both boys and girls.
These shorts are polyester climalite, which wicks away sweat and moisture. This allows for a reduction of odors and discomfort. One downside is that the lighter colors, in particular, are relatively see-through.
Things We Like:
Has an elastic closure drawstring that allows for a customizable fit
The climalite fabric wicks sweat from the skin
Allows for easy, unrestricted movement
Machine washable
Available in six colors
Things We Didn't Like:
They're see-through with the lighter-colored options
Size differences between medium and large, specifically, are greater than expected
Check Price and Reviews on Amazon
---
2. Amazon Essentials Girls' 2-Pack Active Running Shorts
Last update on 2023-11-08 / Affiliate links / Images from Amazon Product Advertising API
These shorts are an Amazon special and exclusive, and they're a must-have for girls going out for soccer. They come in a two-pack, so you can have one pair for practice or training and use the other pair for your game.
They feature an inner lining that helps to wick away moisture and offers additional support. However, if you're unused to this addition in your shorts, it may feel a little off-putting at first, similarly to swim trunks.
These shorts come in packs of two with different color options available, totaling eight possible colors altogether. They're extremely comfortable other than the lining and are made with high-quality, machine-washable material.
Things We Like:
Comes in packs of two so you can have one pair for training or practice and one pair for official games
Machine washable
Comes in a total of eight visible, attractive colors
High-quality material and comfort
Comes with a liner
Things We Didn't Like:
The inner liner makes the fit seem off to some wearers who aren't used to it
They run a little larger than expected
Check Price and Reviews on Amazon
---
3. Adidas Girls' Big 5″ Mesh Athletic Shorts
Last update on 2023-11-08 / Affiliate links / Images from Amazon Product Advertising API
Next up is another fantastic pair of Adidas athletic shorts for girls. With a classic Adidas design, including the dazzle stripes running down the sides, there's no mistaking that these shorts are of a higher quality and will meet and exceed your expectations.
These shorts are available in either black or white, so they're great for most team color combinations or training purposes. They're 100 percent polyester with an adjustable drawstring closure for a perfect, comfortable fit.
They offer more coverage than some other shorts, which can be great for muddy or otherwise messy situations on the field. Additionally, they have an inner lining to them that prevents them from being seen through.
Things We Like:
The inner liner of these shorts is thick and prevents the fabric from being see-through
Comes in both black and white
Has a drawstring closure
Longer than some other shorts and offers more coverage
Comfortable fit and machine washable
Things We Didn't Like:
We couldn't find anything wrong with these shorts
Check Price and Reviews on Amazon
---
4. Starter Girls' 3″ Soccer Shorts
FitsT4 Youth Girls 3" Active Athletic Workout Training Shorts Black
Lightweight quick wicking material delivers superior comfort & breathability
Material dries fast to prevent odor, keep your sport shorts more fresh and long lasting
Elastic waistband with pop color wordmark & adjustable drawcord for customized comfort fit
Athletic cutting and split leg opening for all sports, Solid stitching for durability
These shorts are ideal to use as girls' basketball shorts, soccer shorts, football shorts, gym workout shorts, running shorts ect. Please ref to our size chart in the left images before order.
Last update on 2023-11-08 / Affiliate links / Images from Amazon Product Advertising API
The Starter brand has been known for over thirty years to provide high-quality fan gear and athletic sportswear, and these soccer shorts for girls are some of the best. They're exclusively sold on Amazon though, so if you want them you'll have to order them.
Like the others on our list, these shorts come with an adjustable drawstring waistband for an optimal fit on or off the pitch. Uniquely, they're 100 percent nylon rather than polyester. They are also the only shorts on our list with pockets, and the pockets are on-seam.
These shorts come in five different colors, all with the classic jacquard striping style. The shorts may be thin and, especially in the lighter colors, it may be possible to see through them, so you should consider wearing some compression shorts under them for good measure.
Things We Like:
Made with 100% nylon
Has an adjustable drawstring waistband
Comes in five colors in the classic jacquard striped style
Machine washable and will not shrink
Has on-seam front pockets
Things We Didn't Like:
The material can be a little thin and the lighter colors may be see-through
They may run a little larger than expected, so you may want to order a size down
Check Price and Reviews on Amazon
---
5. Adidas Big Girls' Elebase Shorts
Adidas Big Girls' Elebase Short,Diva/White,X-Large
Fabric Type: Piqué--A middle or heavyweight fabric with a small, raised v-pattern or honeycomb texture
Performance Technology: adidas ClimaLite--Light, breathable fabrics worn close to the skin that conduct sweat away from the body to keep you cool and dry in warm conditions.
Ventilation--Mesh or breathable fabric inserts in high heat zones allow sweat to evaporate and cool air to circulate.
Fabric Content: 100% polyester piqué
Last update on 2023-11-08 / Affiliate links / Images from Amazon Product Advertising API
Again, Adidas makes our list with these Elebase shorts. They only come in a soft pink color, but don't let that fool you when it comes to their durability. They're great for both soccer and track, as well as other intense, sweat-heavy sports and activities.
They're specifically cut for women and girls, allowing the optimum levels of movement and comfort while you exercise. The soft, lightweight polyester pique fabric manages sweat and wicks away moisture.
Despite the light coloration, they aren't see-through, which is a welcome feature. The downside is that they do tend to run a bit on the larger side, but the adjustable waistband helps alleviate that as a problem.
Things We Like:
Comes specifically cut for girls and women's use
Machine washable
Uses soft, lightweight fabric that manages sweat and moisture
Great for soccer and track
Light in color but not see-through
Things We Didn't Like:
These shorts tend to fit a little big, but they come with a drawstring waistband for an adjustable fit
Check Price and Reviews on Amazon
---
Education: What You Need to Know
With our top picks above, you're probably wondering how we decided that these were the best choices for girls' soccer shorts. Why are they the best, what makes them special? What should you look for when deciding on the best soccer shorts for girls?
The Difference Between Soccer Shorts and Gym Shorts
When you're buying activewear for a particular sport or with specific uses in mind, you want to make sure you get the right gear. But sometimes there are similar kinds of equipment or clothing and you might find yourself wondering just what the differences are between the two. Such is often the case with soccer shorts and gym shorts.
While the two types of shorts are truly similar, they're not the same. They tend to be made out of the same types of materials and feel similarly off the court or field, but that's about where the similarities end.
Soccer shorts are designed for maximum agility. They're made so that you can constantly and continuously run, slide, and turn with full comfort over throughout an average 90-minute soccer game.
Gym shorts, on the other hand, are meant to be used indoors, in a gymnasium and with appropriate sports that aren't as demanding, or at least aren't so in the same ways soccer is.
Most gym shorts won't allow you to complete a full range of motion like soccer shorts will, and this can limit or inhibit your peak performance on the field. Additionally, because gym shorts are intended for indoor use, they're often not as tough or durable as soccer shorts.
The Material
It's no secret: when you're buying clothes, particularly clothes you'll be highly active in, you need to select those made with the right materials. For soccer shorts for girls, those materials are as follows.
Bamboo: This is more bamboo pulp than the actual bamboo stalk. The pulp creates a light, breathable, moisture-wicking fabric that will also protect you from UV rays and is generally hypoallergenic. It also helps to repel odors, regulate temperature and is extremely soft.
Cotton: Cotton helps to prevent odors much better than polyester. But, it also absorbs moisture. Cotton is really better left for low-sweat, low-intensity activities and workouts such as yoga.
Nylon: Nylon is soft, mildew-resistant, and dries quickly while being breathable and able to wick sweat away. Mostly, you'll see nylon blends with other fabrics for sportswear, not 100% nylon by itself.
Polyester: Polyester is the queen of workout and sportswear fabrics. It's durable, lightweight, breathable, wrinkle-resistant, and non-absorbent making it perfect for high- or low-intensity activities no matter your sweat level. Additionally, it helps to insulate you even in wet conditions and repels UV radiation. The big drawback of polyester is that the synthetic fibers can foster bacterial growth, and because it doesn't dry as quickly as nylon or polypropylene, it can stink.
Polypropylene: Polypropylene is similar to polyester in that it's a plastic-based material. However, it's completely water-resistant and forces moisture to the fabric surface where it can evaporate. It works great as a base layer under other materials but can be used by itself as well.
Spandex: This material is also known as Lycra, and it's the stretchiest material for workout or sportswear. It can expand to up to 600 percent its original size, will offer an unrestricted range of motion, and then can easily snap back to its original form. Additionally, it's breathable, dries quickly, and wicks moisture while preventing chafing and offering unmatched comfort.
You want breathable, lightweight, mildly-stretchy shorts. This will ensure that they move with, not against, you during the game or at practice and that you won't be laden down with sweat or slowed because of heavy material.
Washability
One of the biggest things people worry about with their activewear is whether or not it's washable. This is because, more often than not, if your sportswear shrinks after being washed, you're going to end up paying a decent amount of money repeatedly replacing it.
All of the shorts we've reviewed above are safe for machine washing, but always remember to double-check the tag instructions on your shorts if you're unsure. Additionally, some shorts may be cold wash only or need to be washed on a different cycle than your other clothes.
The Waistband and Fit
The biggest thing about finding appropriate shorts for soccer is to be comfortable and have a free range of motion. You'll be jumping, running, twisting, turning, sliding, and more and you cannot do those things if your shorts are too tight or too loose.
You want the inseam of your shorts to end about two to three inches above the top of the knee. You should also look for an adjustable waistband or a drawstring that can be tightened and tied so that your shorts stay where they're intended to be on your hips.
The Color
The color of your soccer shorts doesn't matter nearly as much for training but is important during actual games. While many teams will provide the option to buy an apparel kit, particularly if you're playing for a school team, some won't. For this reason, you should ask the team coach which colors are appropriate before committing to a pair of shorts.
Best Brands for Girls' Soccer Shorts
If you're looking to shop by brand, we've got you covered. The four brands below are the best-rated brands for sports clothing and activewear, including girls' soccer shorts.
Adidas: Adidas has always made excellent soccer gear and activewear, and their shorts are definitely high-quality as well. The company produces over 900 million sports lifestyle products each year, so it's safe to say they know what they're doing.
Starter: Established in 1971, Starter made itself a brand name with premium athletic clothing mixed with pop culture flare. The brand caters to fans as well as athletes, so the quality maintains a high standard.
Nike: While not on our list here, Nike does make some great soccer shorts for men and women – it's just a little more difficult finding shorts for girls sometimes. And recently, they've been investing more time and effort into designing activewear, equipment, and footwear for athletes of all genders.
Under Armor: Under Armor is another fantastic brand that didn't make our list, but we felt the need to include it. Particularly, they make great sliders, bike shorts, and compression clothing that some soccer players, particularly girls, like to wear for additional comfort or when their soccer shorts are a little see-through.
FAQs
Have questions about the best girls' soccer shorts? Not to worry! Other players and parents did, too. That's why we've collected the most common questions and answered them here!
Q: Where can you buy girls' soccer shorts?
A: All of the shorts that we've reviewed here today can be bought easily on Amazon.com, however, there are other places to buy girls' soccer shorts, too. Any of the manufacturers' websites for athletic wear will likely have appropriate shorts for sale, for example.
Additionally, any brick-and-mortar sports store will have appropriate clothing options available. Some general retailers, such as Target or Walmart, may also have girls' soccer shorts available. The benefit of going into a physical store is that the clothing can be tried on before being purchased.
Q: Should you wear compression shorts; why or why not?
A: Every soccer player should have at least one pair of reliable, comfortable compression shorts in their arsenal. Compression shorts help to reduce muscular vibrations while you're active and help to conserve overall energy.
Additionally, they'll help to protect you from overworking or overusing the muscles in your legs and hips. They also add an added layer of comfort and help to wick away moisture such as sweat, reducing odor and chafing risks.
Q: Should girls' soccer shorts have pockets?
A: This is debatable for several reasons. Pockets are, undoubtedly, convenient to have, and on regular shorts or pants, their uses are endless. But when you're playing a game of soccer, really, you don't want anything breakable on your person, even if it's in a pocket.
Soccer isn't a high-contact sport, but there's always that chance you'll be rushed. Additionally, pockets with zippers can snag up a slide or catch on your leg, and it can be incredibly painful.
Instead, we recommend a soccer bag for your gear, or even a backpack to hold your things during play.
Wrap Up
Now that you see the importance of having the best pair of girls' soccer shorts, you can see why it's so important to make sure that you make informed choices about which ones to wear. The best ones, in our opinion, are the Adidas Youth Soccer Squadra 17 Shorts. With the climalite fabric, you won't have to worry about being bogged down with sweat or odor.
If that's not your style or you want a little more for your money, you should try the Amazon Essentials Girls' 2-Pack Active Running Shorts. While they're labeled as runners, they're excellent for soccer too, and you can keep one pair for training and the other for the actual games. Another great option is the Starter Girls' 3″ Soccer Shorts, which has convenient pockets just in case that's something you absolutely have to have.
No matter what, any of the shorts we've reviewed above are great for girls to wear for soccer. If you're still not sold, take a look through our buying guide and see what features and benefits really matter to you while you shop around!