Wondering what to use to kill weeds in St Augustine Grass? There are many varieties of grass lawns, and all of them will get weeds and need lawn care. Some are frost-hardy; some thrive in wet conditions, and some will tolerate a lot of wear.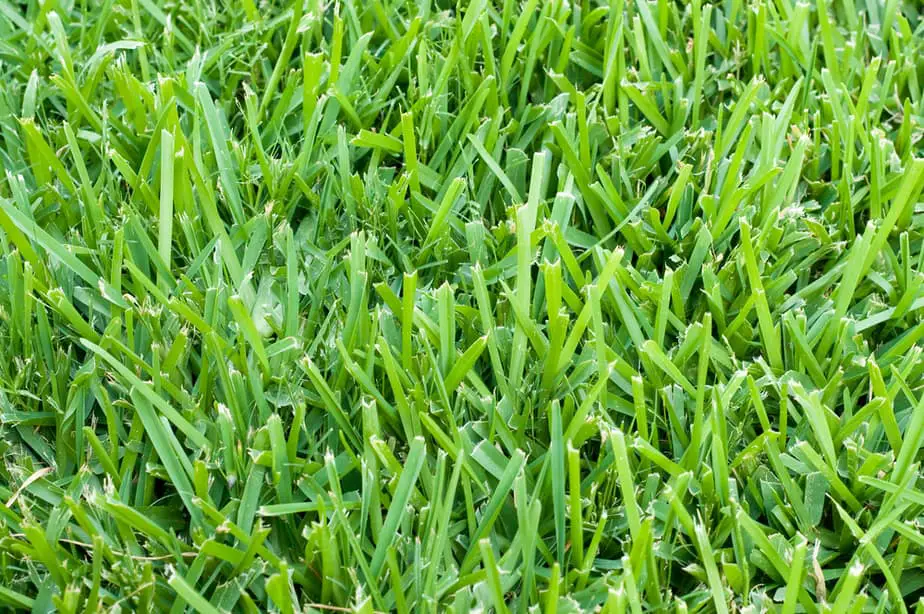 St Augustine grass occurs in tropical and subtropical regions, in much of the southeastern United States, Texas, Mexico, and Central and South America. St Augustine grass grows into a thick, dense mat, and the runners form a natural barrier against broadleaf weeds. This thick, dense mat feels great under bare feet. However, this grass is sensitive to some herbicides, and you must be careful when selecting a weed killer.
St. Augustine goes through a period of dormancy and turns brown during winter, but once warm temperatures arrive, it quickly brightens up. Seeding is the preferred method for planting many types of turfgrasses, but Augustine grass must be planted as sod, sprigs, or plugs. Sod will produce an instant green lawn, but both sprigs and plugs grow quickly. A properly maintained lawn that is fertilized and mowed will be healthy and better able to resist pests and weeds.
Varieties of Augustine Grass
In terms of lawn care, Two grass lawns similar to Augustine grass are Buffalo Grass and Bermuda Grass. These grow similarly by forming a carpet of runners. Buffalo grass is the hardiest and most low maintenance of the three, and it is also the most invasive. Augustine grass is the most sensitive and the hardest to grow, and Bermuda grass sits in the middle.
An essential aspect of lawn care and the choice you make is the climate zone you live in. The USDA hardiness zone map divides North America into 13 zones. These zones are characterized by their lowest extreme temperatures. St Augustine will grow well in zones 8,9,10. Bermuda grass does well in 7,8,9,10. Buffalo grows well in 4-7. Both St Augustine grass and Bermuda grass die-off in winter; Buffalo grass stays green all year round.
To prevent damage to your newly sodded St. Augustine grass lawn, don't apply any type of weed killer during the first year. The best way to reduce weeds at this time is to keep the grass healthy through proper lawn care. If you notice weeds starting to show in the grass, control the weed in the lawn by hand while they're still small and young and bag the clippings while mowing.
Most Common Weeds Found in St. Augustine Grass
Dandelions: These weeds are easy to spot, with bright yellow flowers.
Goosegrass or silver crabgrass: This grass has long, thick leaves that can reach up to a foot long. The difference between the two is goosegrass will be a white or silver color near the root.
Crabgrass: Crabgrass has long, thick leaves that grow outward from shallow roots in a star-shaped pattern.
White clover: The flower of this weed is pink in the center with white crescent-shaped petals.
Dollarweed: Also known as pennywort, this weed gets its name because its leaves are the shape of a silver dollar. Dollarweed growing in your lawn is a sign that you're watering too much, as it thrives in wet conditions.
How to Control Weeds in St. Augustine Grass
If weeds are a problem, you can use both a pre-emergent and a post-emergent herbicide on the lawn to control them.
Before using herbicide for lawn care, make sure the grass is watered and healthy. For the first application, apply pre-emergence and post-emergence herbicides at half the recommended dosage.
The pre-emergence herbicide should only be used when the St. Augustine is starting to grow, and apply a post-emergence herbicide only when it's clear the runners are spreading.
Continue to apply both types of herbicide at half the specified amounts until you have mowed three times.
Some weeds are very tough and are difficult to control in a single spray. Other types will have masses of seeds already in the soil and will continue to spread through the Augustine grass lawn.
Pre-emergence Herbicides
If you can apply it in time, the pre-emergent herbicide is the best to control weeds in St. Augustine grass lawn and all other grasses because it prevents the germination of weeds. The timing is critical.
St. Augustine grass is known to be sensitive to certain herbicides, particularly those containing 2,4-dichlorophenoxyacetic acid as the active ingredient. This particular herbicide is a widely used broadleaf-weed control and plant growth regulator. To know whether or not the product you choose is safe for St. Augustine lawns, read the product label to see if it is recommended for Augustine grass lawn care.
Pre-emergence herbicides that are safe for spraying on St. Augustine grass include Prodiamine, Isoxaben, Dithiopyr, Pendimethalin, Oryzalin, Benefin + Trifluralin, and Benefin + Oryzalin. These scientific-sounding names refer to the active ingredient of the product and maybe marketed under a different name.
Post-emergence Herbicides
Once unwanted growth, such as perennial grasses and broadleaf weeds, start developing in St. Augustine, it's necessary to apply a post-emergence weed killer to get the problem under control. Some products contain several herbicides, so thoroughly read the label to ensure the product is safe, won't damage the sod, and kill the weeds you want to target.
The product works best when applied to young weeds, and for complete control, you may have to reapply the weed killer ten days to two weeks after the first application.
To prevent damage to your grass lawn, make sure to apply a post-emergence weed killer before the grass starts growing and enters the greening-up stage. If it's too late and the grass is already growing, prevent damage by waiting until the grass lawn has fully greened up before applying a post-emergence weed killer.
Post-emergence weed killers safe for use on St. Augustine include the following:
Atrazine
2,4-D + Dicamba + Mecoprop (MCPP)
2,4-D + Dicamba +Mecoprop (MCPP) + Sulfentrazone
2,4-D + Dicamba + Mecoprop (MCPP) + Carfentrazone
Bentazon
Halosulfuron
Imazaquin
Postemergence and Pre-Emergence Combination Herbicides
Combination weed killers containing the pre-emergence herbicide isoxaben and the post-emergence herbicides 2,4-D + dicamba + mecoprop (MCPP) are safe to spray on St. Augustine grass. These weed killers should only be applied to well-established grass, as pre-emergence weed killers can damage newly sodded areas.
MCPA and Bromoxynil based herbicides are generally safe for use on St Augustine.
Dicamba based herbicides are never safe for use on St Augustine.
If broadleaf weeds re-emerge in the lawn after spraying, or some weeds remain alive, repeat the weed spraying in another two weeks or as specified on the product label.
Safety First And Always
Weed killers are dangerous to humans and animals if they are inhaled or ingested. The especially dangerous chemicals include pyrethrins, carbamates, organophosphates, and paradichlorobenzene. They are irritating to the eyes and skin. They have serious adverse effects on the respiratory and nervous systems. Victims may also have symptoms of anemia, including fatigue. If poisoning is severe, the victim can suffer shock and die.
These toxic chemicals are poisonous to wild animals and could be spread into the water ecosystem if you spray close to runoff areas. Be very careful of drift; do not spray any poisons when there is a chance that neighboring property, plants, and animals could be damaged. Follow the instructions carefully and observe all precautionary advice.
The list of safety precautions published by any poison manufacturer advises protective clothing, respirators, and eye protection. They always encourage users to keep children and pets away.
This shows serious concern for the welfare of the users of these toxic chemicals.
Herbicides are used to kill weeds and other undesirable plants in gardens and grass lawns. Farmers use these poisons. While it is often difficult to know the exact cause of cancer, certain herbicides have been linked to an increased risk for cancer. Consider the environmental impact of your decisions.