Do squirrels eat tomatoes? In this article, we'll not only answer this question but also share tips on how to tell if a squirrel is raiding your tomato crops and how you can prevent that from happening.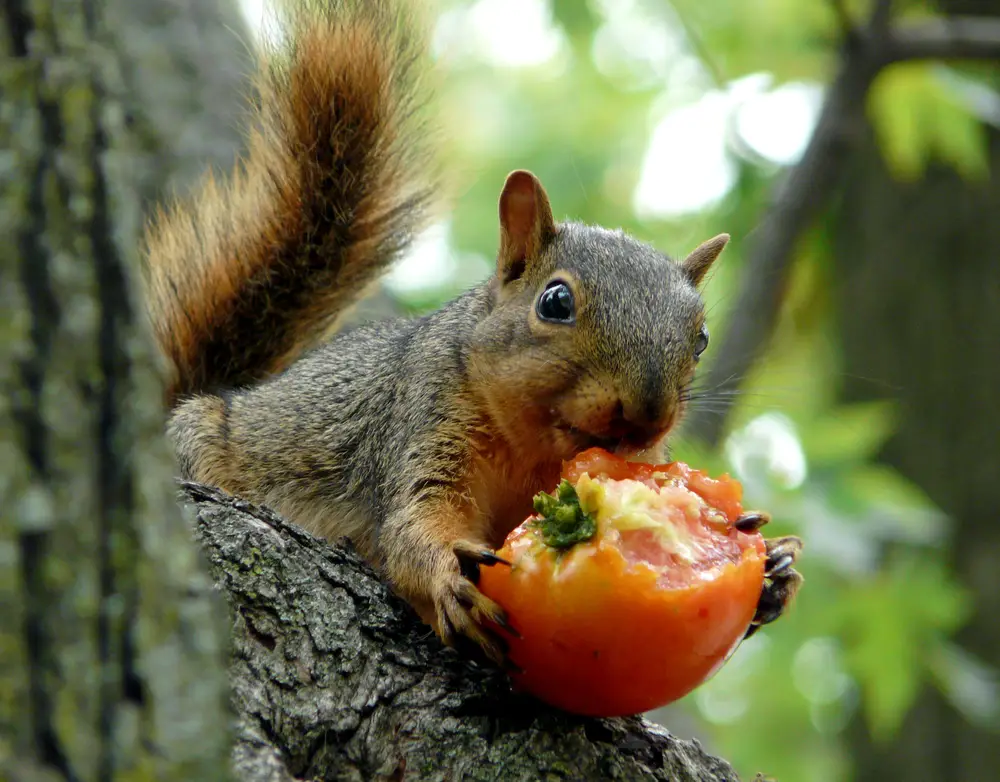 Let's get started!
Do Squirrels Eat Tomatoes?
Squirrels have a diet loaded with nuts, fruits, seeds, and veggies — including tomatoes! Squirrels especially like to munch on the ripest, mostly brightly colored tomatoes. They seem to target the juiciest tomatoes that are just about to be picked.
How to Tell that Squirrels are Attacking Your Tomatoes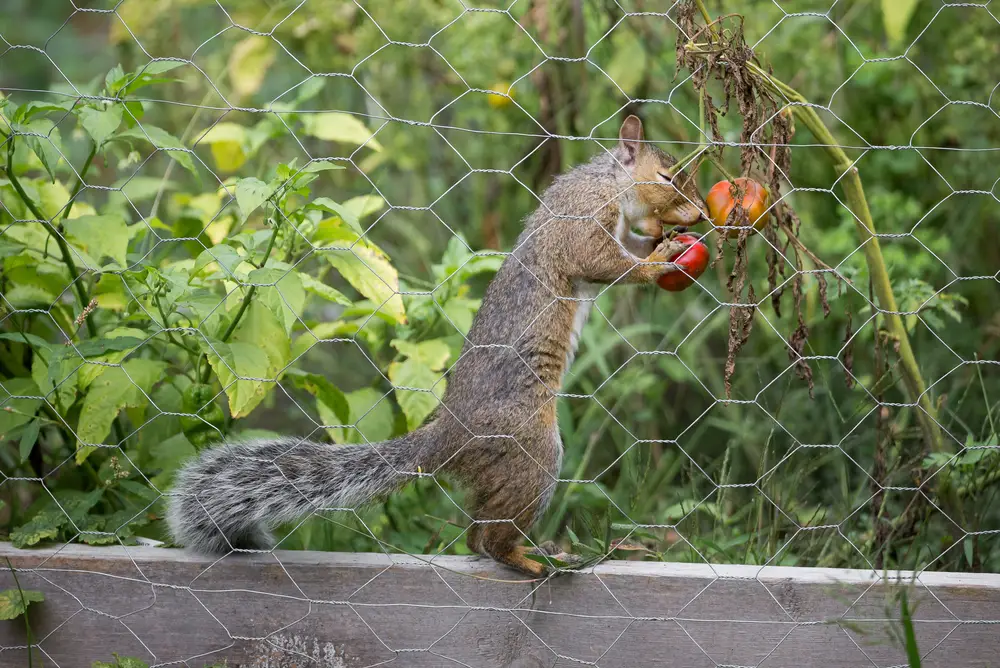 If you've found eaten tomatoes tossed around your garden and want to make sure a squirrel is responsible for the damage, there are certain clues you can look for to confirm your suspicions.
For example, squirrels leave behind chewed tomatoes with medium to large bite holes on only one side of the fruit. Although a squirrel may eat an entire tomato, it usually goes for the sinister behavior of just taking a couple of bites of a bunch of tomatoes and ruining them all for you.
Another sign of squirrel damage is if it's done during the day because that's when these animals are active. This means that if the damage takes place overnight, the culprit is probably another mammal.
Additionally, you can tell it's a squirrel that ate your tomatoes if you notice small holes in your garden's ground or containers close by. This indicates the digging actions of a squirrel.
Besides tomatoes, squirrels may nibble on other plants such as flowers (particularly daisies).
If you notice that both the fruit and leaves of your tomato plant are damaged, then you're likely dealing with an insect issue.
Why do Squirrels Eat Tomatoes?
Besides liking how they taste, is there a reason why squirrels eat tomatoes?
We know that these critters generally enjoy ripe tomatoes, but if they're thirsty they'll attack green ones, as well. If this is the case, you can fix the problem by providing a source of water away from your plants.
This will deter squirrels from eating your tomatoes just due to thirst. Alternatively, you can set up a birdbath and do both animals a favor.
How to Keep Squirrels Away from Your Tomato Plants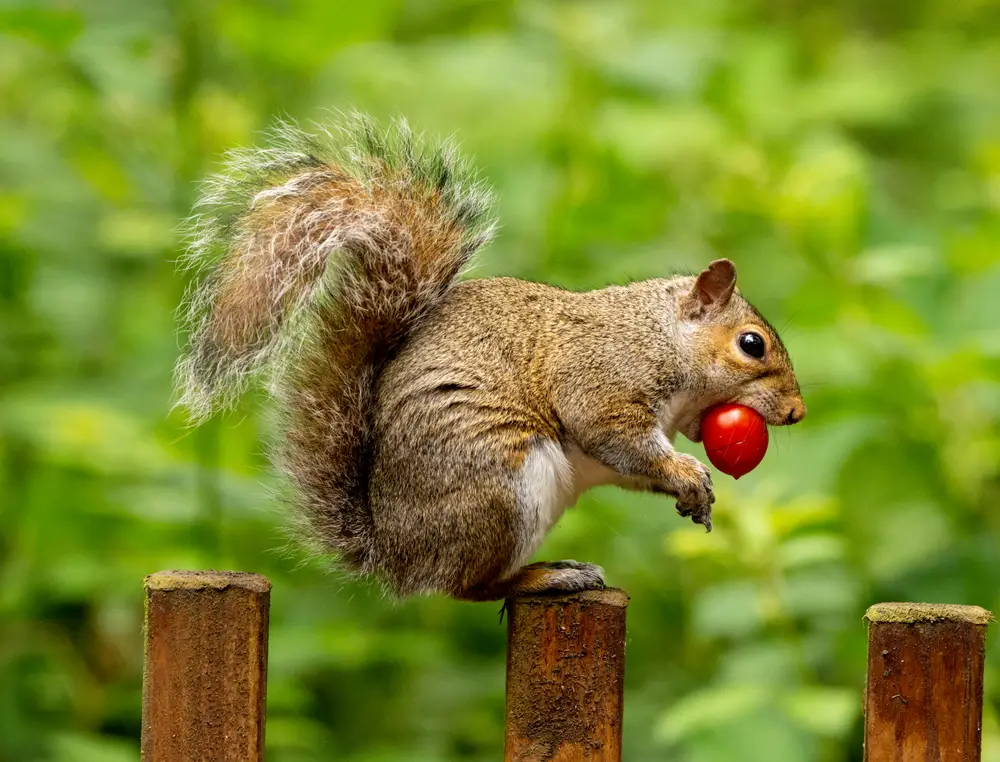 If you're sure that squirrels are ruining your tomatoes, you don't have to put up with the situation. The following tips and methods can help protect your garden from unwanted squirrel attacks so you can finally enjoy your tomatoes in peace.
1. Get Rid of Squirrel Attractants in Your Garden
You may not realize it, but you could be the one inviting squirrels into your garden unknowingly. So, start by removing all the things that may be causing squirrels to stop by your yard. Here's what you can do:
Don't leave garbage bags out in the open. Squirrels may go through them to rummage for food leftovers and stumble upon your tomato plants in the process. Instead, use trash bins with lockable lids to keep squirrels and raccoons from getting their paws on them.
Remove bird feeders. Not only do bird feeders attract squirrels, but having birds close while you're growing vegetables may result in bird attacks on your plants.
Get rid of foods falling from your trees. For example, if your bushes and trees are dropping nuts, seeds, fruits, or berries, you should clear up your yard to avoid squirrels paying you visits to eat the fallen goods.
2. Shield Your Tomato Plants
Sirozi 4 Pack Plant Insect Bird Barrier Net Mesh with Drawstring, 3.5Ftx2.3Ft Plant Protective Cover Garden Flower Screen Barrier Bag for Vegetables Fruits Flower from Bird Eating
Drawstring design: These plant protection nets are designed with a drawstring design, which is simply placed over the plant and the rope is tightened to securely protect the plant
Size: These insect bird nets measure 3.5Ftx2.3Ft and are large enough to be placed over the plant in its entirety without having to bag each fruit
Material: These garden barrier protection nets are made of high quality polyethylene material with fine holes, strong and durable for long term use
Wide range of uses: Great for greenhouses, gardens, nurseries, patio, can protect plants, patio, vegetables, tomatoes, blueberries, small shrubs, etc. Can also be used as a grain storage bag to hold harvested grain
Great choice: Ideal for protecting plants from pests, birds and squirrels, and other animals, with full protection and no harm to other animals
Last update on 2022-01-11 / Affiliate links / Images from Amazon Product Advertising API
If there's a high population of squirrels in your area, then shielding your tomato plants can be quite effective in stopping unwanted attacks.
There are a few ways you can make your tomatoes less accessible such as cages, bird netting, or covers. Although these might not work 100% against squirrels, they can prevent damage from other animals, as well.
3. Plant Mint Nearby
Sale
Bonnie Plants Sweet Mint Live Edible Aromatic Herb Plant - 4 Pack, Easy to Grow, Non-Gmo, Perennial in Zones 5 To 11, Used in Teas & Other Beverages, Salads, Garnish, Jelly & Desserts, Green
Easy to grow
Aromatic leaves
Garden use: Herb garden & containers
Culinary use: Teas & other beverages, salads, garnish, jelly, desserts
Plant in full sun to partial shade for the best yields
Last update on 2022-01-11 / Affiliate links / Images from Amazon Product Advertising API
A lot of pests and critters hate the scent of mint, including squirrels. If you plant some mint near your garden, this can help repel squirrels from your tomatoes.
4. Get a Dog
It's an instinct for most dogs to chase away small animals, so bringing in a dog can scare away squirrels and keep them from getting into your garden.
If the weather's fine and there are no predators to worry about, you can have your dog stay outside during the day to guard your crops.
5. Apply Apple Cider Vinegar
Bragg Organic Apple Cider Vinegar With the Mother– USDA Certified Organic – Raw, Unfiltered All Natural Ingredients, 16 ounce, 2 Pack
BRAGG APPLE CIDER VINEGAR: The Bragg ACV Vinegar is made from organically grown apples, and offers various health benefits. To easily incorporate ACV into your diet, you can take a daily 2 oz shot, pour it over your salad, drink in a morning elixir with water and lemon, or add it to your hot tea.
ORGANIC INGREDIENTS: The Bragg ACV is raw, unfiltered, and crafted from organically grown apples. It is USDA certified organic, Non-GMO Verified, and Kosher certified.
MOTHER OF VINEGAR: The 'Mother' consists of strands of proteins, enzymes, and friendly bacteria that give the product its murky appearance. The 'Mother' is used for its natural cleansing qualities.
APPLE CIDER VINEGAR HEALTH BENEFITS: Drinking a daily dose of Bragg Organic ACV offers many health benefits. ACV can help support a healthy immune system, aids in maintaining a healthy weight, delivers prebiotics, and helps you maintain normal glucose levels.
The Bragg Difference: A diet rich in organic fruits and veggies is essential to vibrant health. Our ingredients always come from the land, not a lab. It's our vital difference. With Bragg Live Food Products Seal of Authenticity
Last update on 2022-01-11 / Affiliate links / Images from Amazon Product Advertising API
Apple cider vinegar is another natural repellent that can effectively keep squirrels away from your garden. Not to mention, it won't cost you much.
All you need to do is get some apple cider vinegar, soak rags in it, and place these rags around your tomato plants.
6. Use Predator Decoys
Sale
Dalen Natural Enemy Scarecrow Great Horned Owl, Chemical-Free pest Control, Safe and Humane, Protect Gardens, Fruit and Vegetables from Birds and Other pests, 16"
LIFE-LIKE DESIGN: Not only a bird and pests repellant, but our scarecrow is also blow-molded and hand-painted to achieve a perfect decoy, which adds charm and beauty to your garden and home. The hand-painting makes our bird owl decoy an attractive pest control equipment to use anywhere.
16" TALL: Hand-painted for maximum realism and effectiveness, our owl garden decoy is the ideal decoy that effectively scares away birds and other pests from pestering on your garden and feeding on your food.
CHEMICAL-FREE: This is the most effective natural and chemical-free pest control product in the market. We only use natural materials, which are safe to use in your garden and home, and do not pollute the environment. Safely keep your garden and home free from unwanted pests and birds using our chemical-free owl scarecrow.
100% MADE IN THE USA: Fake owls are 100% made in the USA through blow-molding and hand-painting processes. We are proud to offer a scarecrow that undergoes thorough testing and certification to ensure we have a product that fully meets the needs and USA consumer quality and safety standards.
EASY TO INSTALL: We don't want our customers to have a hard time fixing our owl statue to scare birds. You don't require any prior training to install our great horned owl. Therefore, to make your work easier, we've included a set of user/installation instructions to help you install our scarecrow anywhere you want.
Last update on 2022-01-11 / Affiliate links / Images from Amazon Product Advertising API
The same way farmers use scarecrows to keep birds away from their crops, you can use predator decoys to discourage squirrels from attacking your tomatoes.
All you need to do is buy a few decoys — owls and hawks work pretty well — and place them close to your tomato plants. Be sure to change the position of your decoys from time to time so that the squirrels don't realize the predators are fake.
7. Spray Liquid Squirrel Repellents
Sale
Plantskydd Animal Repellent - Repels Deer, Rabbits, Elk, Moose, Hares, Voles, Squirrels, Chipmunks and Other Herbivores; Ready to Use Liquid - 32 Oz Spray Bottle (PS-1L)
For year round control of deer, rabbits, elk, moose, hares, voles, squirrels, chipmunks and other herbivores
Protects 100 plants, 1 foot high
Applicaton frequency: Growning season (2-4 weeks + spray new growth), Dormant season (3-6 months). Bulbs (spray or dip bulbs before planting).
Plantskydd works on flowers, perennials, fruit and vegetable gardens (don't spray edible parts), shrubs, trees and bulbs.
Made in the USA
Last update on 2022-01-11 / Affiliate links / Images from Amazon Product Advertising API
Repellent sprays can do a good job of keeping squirrels away from your tomato plants. These sprays may contain all-natural ingredients or there may be some chemicals involved.
Either way, spray repellents are super simple to use. You just point a spray bottle at the plants and press on a trigger to release the liquid.
The drawback of using repellent sprays is their longevity. Although their effects may last for several days at a time, most of these sprays wash away with water.
So, you'll have to reapply the spray whenever it rains or after every time you water the tomatoes.
8. Try Ultrasonic Devices or Radios
Broox Solar Animal Repeller, Ultrasonic Repellent, Motion Detection, LED Flashing Light, Dog, Cat Repellent, Squirrel, Raccoon, Skunk, Rabbit, Rodent, Fox, Deer, etc.
Do you have problem with unwanted animals in your area, garden, farm, etc.? Are they destroying your garden or eating the fruits? Do they bring many viruses to you? Let's start to use Broox Animal Repellent to solve your problems! This effective device helps you to get rid of unwelcome animal visitors. It contains a motion detector system which detects movements and emits powerful ultrasonic sound and flashing LED light.
Repel animals in a humane way: Broox Solar Ultrasonic Animal Repellent repels animals by emitting ultrasonic sound, alarm and LED flashing light. When the motion detector, detects a motion, it will trigger the ultrasonic speaker to emit a high frequency noise which makes animals uncomfortable (but not affect humans), therefore, keeps them away from the protected area.
Solar Powered and Waterproof (normal rain): With a solar panel on the top of the device, it can be charged by solar energy, that benefits in energy saving and environmental protection. It also can be charged with included USB cord. This outdoor repellent uses high-grade material with the weatherproof and UV-protected construction, which can protect itself against water splashed from all directions and withstand normal rain, snow, or the harsh sun. it is perfect for garden, yard, farm, etc.
Human Design: Solar Animal Repellent only repels animals without any chemicals or harms. it only emits 13.5kHz-45.5kHz ultrasonic sound to deter them. New model batteries are used in this device instead of old-fashioned lithium batteries which are not safe for outdoor utilization.
Easy to Install, widely used and Wide infrared sensor range: Simply take it out of the box, charge it with the USB cord, select your desired mode, then insert the repellent in the ground or mount it against the wall where the repellent receives enough sun light during the day. Five different frequency modes enable you to repel most types of animals in your area. This repellent has 110 degrees infrared sensor angle, detection distance ranges from 20-25 feet depending on animals' size.
Last update on 2022-01-11 / Affiliate links / Images from Amazon Product Advertising API
Ultrasonic devices can prevent squirrels from entering your garden and eating your tomatoes. They produce sounds at frequencies that the human ear can't pick up but are very annoying to animals such as squirrels. This noise will make the critters want to keep away from your property.
If you don't want to buy an ultrasonic device but have a radio lying around, you can use it to generate noise that'll deter squirrels from your tomatoes. Simply place a radio close to the plants and play some loud, upbeat music.
9. Set Up Motion-Detecting Sprinklers
Sale
Havahart 5277 Motion-Activated Animal Repellent & Sprinkler, 1 Pack, Green
Repels nuisance animals such as dogs, raccoons, opossums, and more
Releases a startling surge of water to scare animals away
Infrared sensor detects animal heat and movement within a range of up to 60 feet
Metal spike allows for easy placement anywhere on your lawn or garden
Continuous spray setting allows for use as a sprinkler unit
Last update on 2022-01-11 / Affiliate links / Images from Amazon Product Advertising API
Finally, you can set up motion-detecting sprinklers near your tomato plants. They'll go off whenever they sense movement, blasting water at squirrels and other animals that get too close to the fruit.
You can benefit from such sprinklers in watering your plants, but be careful about placing them right next to your tomatoes to avoid overwatering.
Wrap Up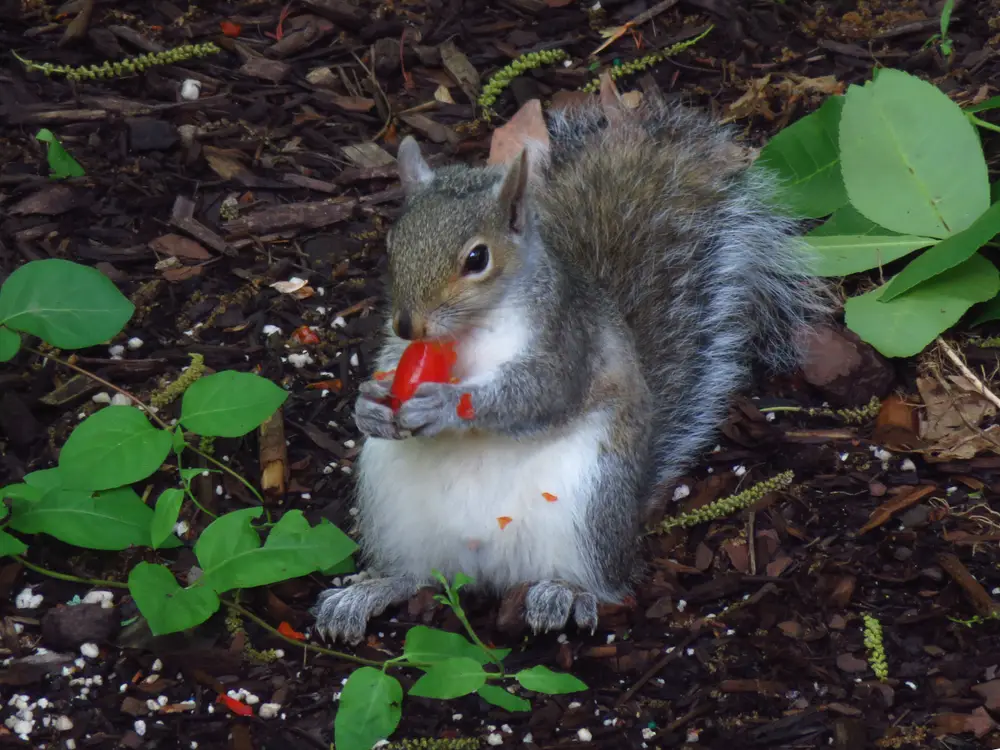 So do squirrels eat tomatoes? You can bet on it, but as we explained, there are ways you can effectively keep squirrels away from your garden and enjoy your tomatoes in peace.